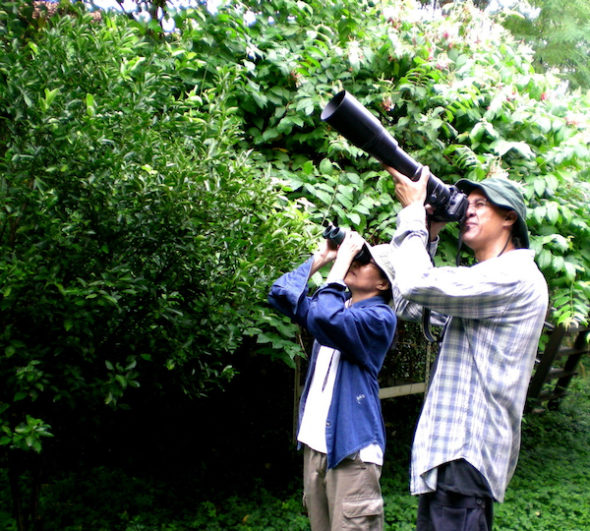 Dato' Dr. Amar-Singh HSS with Datin Dr. Swee-Im Lim observing birds.
Introduction
The Bird Ecology Study Group took a "holiday" when we stopped posting on December 2019, after 14 years of activities. This did not stop Malaysian birder Dato' Dr. Amar-Singh HSS from sending me his daily observations. These piled up in my computer until BESG resumed activities in July 2021. By then there were nearly 500 unposted items. He returned from every one of his trips, usually accompanied by his wife Datin Dr. Swee-Im Lim, with at least an account of the bird/s they observed and numerous images, sometimes also a video clip and/or a sound recording.
Initially I posted two items a day, at other times three. After nearly a year of postings I finally cleared the backlog, or so I thought. There is the possibility of me missing a few due to various reasons. Should they surface in the near future, I will try post them on this site.
The birders
During my daily postings I became familiar with this pair's bird watching habits. Whenever they were out birding, they made it a point to keep as silent as possible so as not to disturb the birds. Should they arrive by car, they remained quietly inside for some time before they started taking photographs or make use of their video equipment. The pair is against flash photography as they believe that flashlight will somehow interfere with the birds' activities.
Equipment
Amar's birdwatching equipment consists of Nikon D500 SLR with Nikon AF-S Nikkon 500mm f/5.6E PF ED VR, handheld with Rode VideoMic Pro Plus Shotgun Microphone. And he never leaves home without them – or so I assume.
Birding destinations
Mainly Peninsular Malaysia… occasionally they travel to nearby Taiwan and Hokkaido, Japan. When work brought them south to Johor, they invariably crossed over to Singapore to do some birding.
Trash birds
There are experienced birdwatchers in Singapore who are "snobbish" in their dealings with birds. They refer to birds like Javan Mynas, Yellow-vented Bulbuls and House Crows as trash birds, unworthy of their attention. Amar is different. To him, all species are worthy of his attention. After all, anting was first observed in Singapore by a student who was not even a birdwatcher. He noticed a Javan Myna, a common bird, picked up ants and placed them on its feathers. For nearly two decades no local birdwatchers could explain why the myna was doing what it did.
Variants and Morphs
Most birdwatchers are happy to ID his/her bird to the species level. Few would identify it down to variants or even morphs. Amar was also quick to recognise an uncommon morph when encountering an Oriental Honey-buzzard.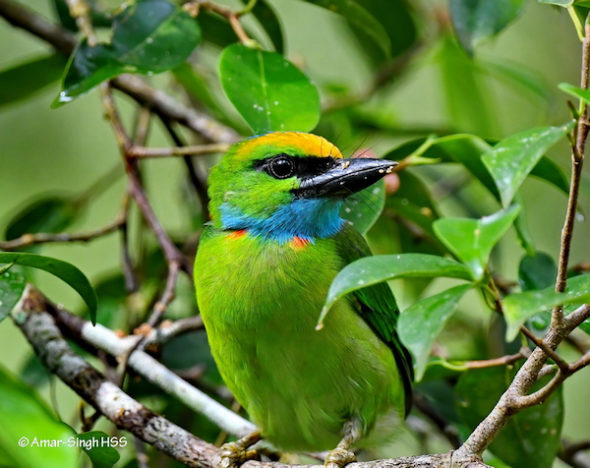 Yellow-crowned Barbet's blue throat with two red spots.
Plumage
When observing the Rufous-tailed Tailorbird, Amar noticed that the black at the neck was visible mostly when the bird was calling. He also noticed the blue throat with two red spots and red hind collar when watching the Yellow-crowned Barbet. He noticed when a Red-wattled Lapwing displayed aberrant colours on its plumage. The colours of the plumage during the non-breeding and the breeding seasons, especially among Cattle Egrets fascinated him. His study of age changes and breeding plumage of the Black-crowned Night Heron, illustrated with colour images makes interesting reading.
Moulting
Very few birdwatchers, when observing or photographing birds, make comments on moulting. But not Amar… as when a single tail feather was displaced or moulting of the face feathers as in these bee-eaters. …or whole body moulting.
Stages of development
While most birdwatchers would be satisfied to simply identify a bird, Amar went a step further to establish whether a bird was an immature, juvenile, adult female, female, male, etc. He even studied the development of a young juvenile to adult. Where the sexes were not distinctly different as in Zebra Doves, he would spend time to differentiate the male from the female.
Conflicts
Amar's accounts of conflicts among and between species included details of tail movements,  vocalisartion, etc.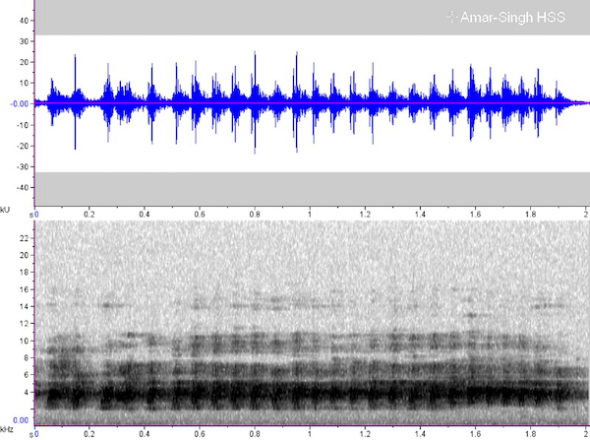 Sonogram and waveform of the Silver-eared Mesia's chattering.
Vocalising
Amar is one of very few birdwatchers who documents birds' vocalisation. He was careful to distinguish song and call. In calls, he categorised them into contact, post-mating, courtship, territorial, warning, advertising, juvenile, female calls, male calls, simple chattering…  He even counted the total number of single calls of 36 per hour in the case of the Black-bellied Malkoha. And how about vocal interaction? Or even post-mating calls? How many will take the trouble to document these last two, if he/she even recognises the calls as such. And how about extended vocalisation?
Invariably, each of his account was accompanied by a sonogram-waveform image. And he never forgot to share his recordings with xeno-canto, the website dedicated to sharing bird vocalisation from around the world. I am particularly fascinated when he recorded a woodpecker drumming, complete with his usual sonogram-waveform image. However, one call he was not totally successful was when he attempted to record the source of a series of quacks that eventually led him to be that made by Four-lined Tree Frog (Polypedates leucomystax). But he did succeed to record the quacks though.
A Crimson-breasted Flowerpecker feeding on Piper aduncum.
Feeding behaviour
In his feeding observations, Amar tried his best to identify the fruits taken by the birds, although he is no botanist. And this is no easy task, when forest plants were involved, more so when observed from a distance. Nectar feeders, mostly seen among ornamentals or flowers of wayside trees, were easier to Identify. In many such accounts he would invariably include a list of other birds taking the same fruit. Always on the lookout for new food sources, he reported a Crimson-breasted Flowerpecker feeding on the fruits of Piper aduncum, an introduced species.
Most birdwatchers will just describe the food taken by birds, whether fruits, insects, frogs, snakes or mammals. Amar went one step further to describe what the birds did while flying off or when feasting on the prey as well as how they hunted them – see HERE and HERE. When a juvenile was around, he paid special attention to see whether it was self-feeding or fed by an adult. While others are satisfied to just report a bird taking a large insect, he tried hard to name the insect, as when a Blue-throated Bee-eater caught a cicada or a Greater Green Leafbird caught a large beetle. Identifying insects to the genera or species is more difficult than dealing with plants. In many of his feeding reports, he paid attention to how the birds behaved, whether stalking, diving, waiting patiently, hovering, hawking, social feeding or aerial sallying. With Spiderhunters and Sunbirds that are mostly insectivorous he noted that they also fed on fruits and the nectar of flowers.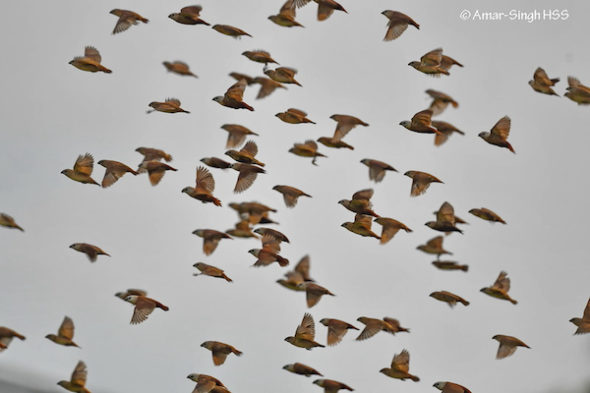 A flock of white-headed munias.
Mixed foraging party and bird wave
When encountering mixed foraging parties, Amar would attempt to identify the birds involved. As for bird waves he again tried to list as many of the birds as possible that were part of the wave. When he encountered flocks of White-headed Munias, he took pains to estimate the number in the flocks as well as the ratio of adults to juveniles.
Courtship and copulation
Amar was always fascinated with courtship behaviour – how the male displayed its wings and tails, the sound it made… and generally how the pair bonded. An excellent account can be seen here.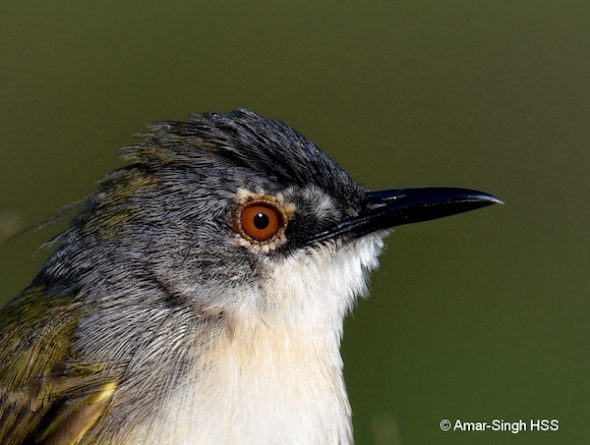 Yellow-bellied Prinia's eyelids margined by a single row of white feathers.
Attention to morphological details
Details of the Cattle Egret's pectinate claw, the Crested Serpent-eagle's nictitating membrane and feet, the Long-tailed Shrike's talons or the Crimson Sunbirds' tongue were all illustrated with close-up images. I am sure many birdwatchers are not aware of these features. Another detail not often appreciated is the tiny feathers around the eyelid margins as seen in the Yellow-bellied Prinia. Whenever Amar had a chance he would photograph details of the bird's plumage, as when he encountered a dead pitta.
Foraging
Some birds forage alone, others form mixed foraging parties, yet others forage vie aerial quartering …
Bird out of place
Amar even noticed and reported a bird out of place as when he encountered a Slaty-backed Forktail in the lowlands.
Individual or in groups
Birds may be seen individually, in pairs or sometimes in small or large social groups…
Identification of birds
Not all birds are easy to identify, even for an experienced birder like Amar. An excellent example was differentiating the Indian Cuckoo from the Oriental Cuckoo. When faced with such a problem, Amar reached out to his close knit of knowledgeable birders for an online discussion.
Nesting
In his nesting posts, he documented the nests and paid attention to the nesting materials used. And he was especially fascinated when a bird nested in unusual sites. There is even an account of an Oriental Pied Hornbill nesting in a limestone cavity. I wonder whether this is a world's first?  Among Baya Weavers, he took pains to establish whether the females were involved in nest building. He even paid attention to the eggs – abandoned eggs of course. And he always kept his distance, never use flash and not spending too much time observing. He will never disturb nesting birds and always observed them from a safe distance when not inside his car and of course keeping quiet all the time. While documenting a Crested Goshawk, he delayed moving off after he got the relevant photographs only to notice the Goshawk removed a dead chick from the nest it was building. He even had an opportunity to observe how the Black-naped Oriole robbed the nest of a Baya Weaver.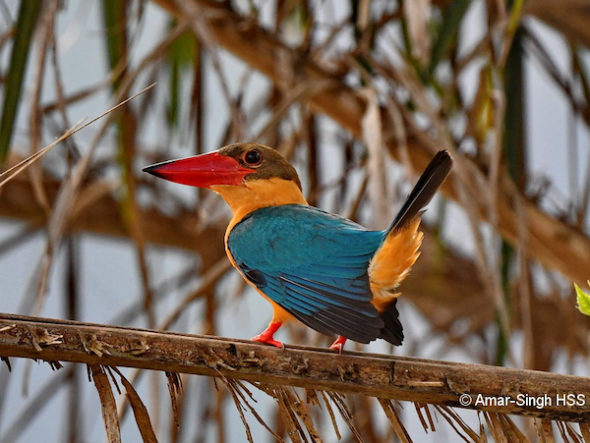 Amar being flashed by a Stork-billed Kingfisher.
Miscellaneous
Many miscellaneous behaviour items documented by Amar include gular fluttering; whether birds eat the faecal sacs of another species; Zitting Cisticola's dance;  agonistic behaviour among Purple Swamphens – a common but not often reported behaviour and many others. And Amar was even flashed by the Stork-billed Kingfisher.
Conclusion
During my active involvement, first with the Malayan Nature Society (Singapore Branch), then with Nature Society (Singapore), I had encountered my share of local birdwatchers who thought they were the experts, just because they had their checklists filled with ticks. These birdwatchers moved around thinking that they were the experts but they seldom, if ever travelled beyond southern Malaysia. Many were selfish, not willing to share their experience except with those who they favoured. They also would not share locations except with close friends. Around 2015, BICA (Birds, Insects N Creatures of Asia) appeared on the scene and eclipsed the selfish birdwatchers. BICA shared with everyone, even the selfish birdwatchers who subscribed to this new FB phenomenon, I suppose surreptitiously. Well, BICA completely eliminated the phenomenon of selfish birdwatching.
Coming back to Amar, he is definitely a breath of fresh air. With his breadth and depth of knowledge in birding, he is always generous in sharing what he knows, to friends, acquaintances and even strangers. If only more birdwatchers could be like him.
YC Wee, Singapore, 11th June 2022