A number of the White-throated Kingfishers (Halcyon smyrnensis perpulchra) in the city are nesting and hence more vocally evident. I recorded a number of calls from this presumed male; the pair is still incubating.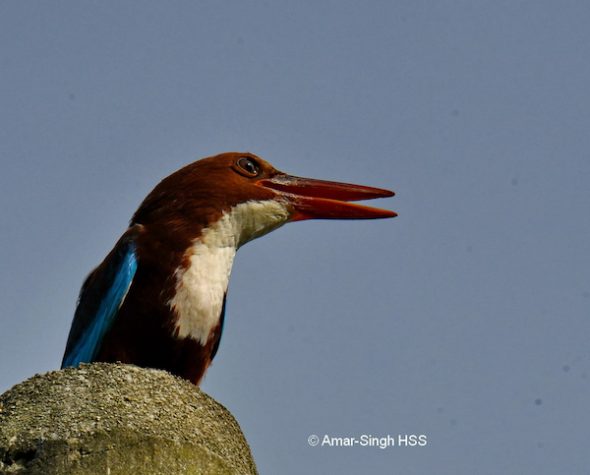 As usual, it will sit on a high perch, like a lamppost and belt out the calls, which I presume are territorial in nature. The beak is held slights open and the throat gets distended (above). Occasionally the beak is pointed skywards.
The calls are loud thrills in groups of 18-25 notes (sample of 11 calls: 22, 18, 20, 21, 18, 19, 25, 21, 25, 22, 20 notes each) spaced 2-5 seconds apart (often 2-3 seconds apart) and last 1.5 to 2 seconds. A sonogram/waveform (above) shows that the calls are made in a decrescendo scale with the last 1 or 2 of much lower amplitude. Occasionally, at the end of the thrill calls, there is a coarse, scratchy 1-2 notes, but this is not always made.
These thrill calls are considered the bird's 'song'.
Edited recording of the song are in the Sound Cloud link: https://soundcloud.com/amar-singh-hss/white-throated-kingfisher-halcyon-smyrnensis-perpulchra-territorial-calls
Amar-Singh HSS (Dato' Dr) – Ipoh, Perak, Malaysia
Habitat: Fringe of the city
Date: 1st January 2019
Equipment: Nikon D500 SLR with Tamron SP 150-600mm f/5-6.3 Di VC USD, handheld with Rode VideoMic Pro Plus Shotgun Microphone