"Our illustrious Webmaster feels strongly that we should leave baby birds alone. I agree. Attempting to hand feed baby birds is an extremely demanding task somewhat more complicated and troublesome than raising a human baby.
"It's also something much easier to get into than get out of. The job does not end when the baby is fledged and capable of feeding itself.
"Turning it loose at that point would probably only ensure a good meal for the next passing raptor or neighbourhood cat.
"The rehabilitation of hand-raised birds and their return to the wild is a subject worthy of a chapter in itself.
"However, sometimes we get stuck, and have no alternative except to rescue fledglings. Those without bird-keeping experience then wonder what to do.
"So, when there is no alternative, you can try some techniques commonly used in aviculture to raise very young birds without their parents. The methods described in this article can be used to raise the following types of birds until they are able to fend for themselves.
"All starlings and mynahs; all bulbuls; barbets; leaf birds and fairy bluebirds; orioles; all parrots, parakeets, lories and lorikeets; finches, munias and sparrows; pigeons and doves; and crows and magpies.
"Thrushes, shamas, robins, herons, owls and hornbills are also frequently hand-raised, but using different techniques. And methods employed for the husbandry of ducks, geese, pheasants, rails, quail and jungle-fowl are also different. I will just skim over the details of those species at the end of this article, but if required, will be glad to provide information through the administrator of this website.
Here goes – with Handfeeding 101
"The bird used to illustrate this article is a Yellow-vented bulbul (Pycnonotus goiavier ventris) named Angry Bird. He has a grudge against the world – and for good reason.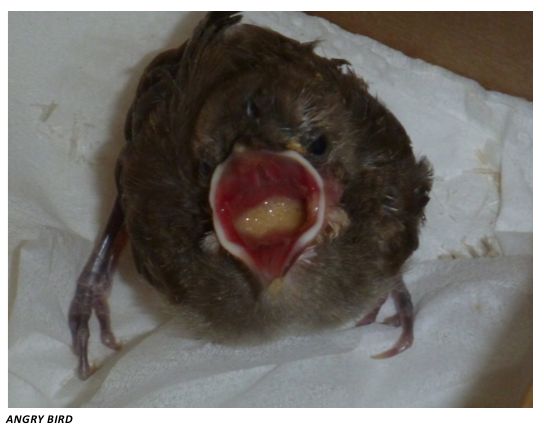 "There he was, about a week old, minding his own business in the nest, when a cat brought everything down and ate his sibling. After finishing the snack, the cat ate his mother, who was fluttering nearby. It would have started on him too, except that I intervened.
"And I was stuck with the task of raising an Angry Bird with a bad attitude.
"Based on my own experience in keeping and breeding aviary birds I can say that in recent years there have been many advances in aviculture. A range of commercial products are available to simplify the care of most of the omnivorous and seed-eating species listed at the beginning of this article.
"When starting off with a very young baby bird you will need are a container, a heat source, food and syringes.
The container and heat source.
"The best container is an incubator. Some of the better-stocked bird shops sell small, table-top incubators for aviculture. But if you are not prepared to go to the expense, a box and a lamp can do the job.
"I don't like to use plastic fish tanks, even though it is common in bird shops to display fledglings for sale in these. While good for business, leaving them constantly visible from all sides can cause stress. Generally, fledglings do better with some darkness and privacy because many species of birds construct either cup-shaped or covered nests.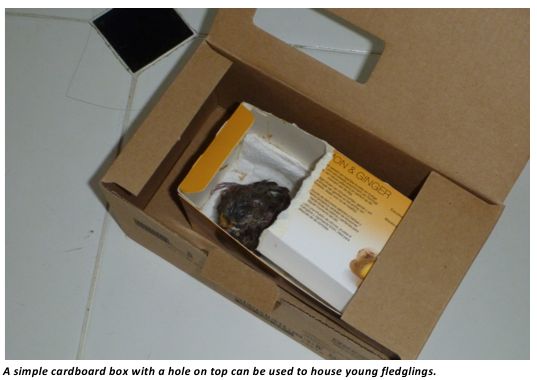 "A cardboard box with a lid holds fledglings very well. Cut a small hole in the lid, line the bottom with kitchen towels, and put the fledgling in. Change the towels every time they are soiled, which will be often.
"Please remember that birds which have not yet grown feathers also have very poor control over their body temperatures. Many will die if allowed to be chilled overnight.
"I use a light bulb as a simple heat source. I shine the bulb at one of the sides of the box and put it close enough so that the cardboard feels slightly warm.
"Don't put the light so close that the box may accidentally catch fire.
"As far as possible, have a box long enough to allow a temperature gradient – that is, with the heat source only at one end so that one side is cooler than the other. In this way, the bird can move to the section where it feels most comfortable.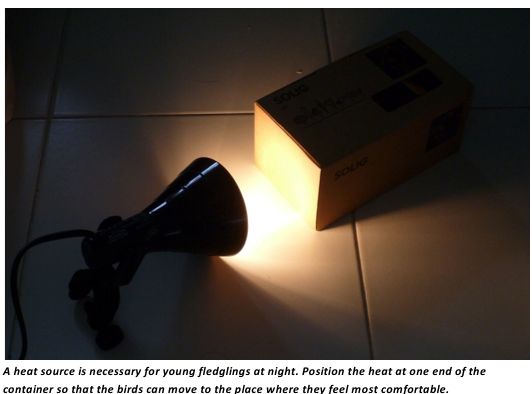 Food and syringes
"Gone are the days when aviculturalists had to mix their own formulae for hand feeding. Now, there are very good mixes from leading American and German manufacturers. A standard parrot hand-feeding formula will suffice for all the birds listed at the beginning of this article. A full package is probably far more than you will need for raising even a few fledglings. Luckily, Goodwill Bird Trading at Block 154 next to the community centre at Serangoon North Avenue 2 will sell small servings of hand-feeding formula.
"A seven-dollar packet saw Angry Bird through from the day he arrived until he started eating on his own. Handfeeding formula is highly perishable. Keep it in the refrigerator.
"Mix the powdered formula with lukewarm, not hot water. Hot water reacts with the starches in it to form gum, which the baby birds will not eat. The desired constituency should be a paste, but not runny, just liquid enough to be sucked up in a syringe.
"Some people use spoons, others use coffee stirrers, but I still prefer to feed baby birds with syringes. I find these most convenient. I use the smallest syringes, with a total capacity of 1 cc. Please understand that baby birds are very small. For a bulbul, 1.5 to 1.8 cc in total is the maximum amount for one feeding. For a munia, probably a third of that will do. A long, small-diameter syringe also allows better control over the amount that you put into a bird at any one time.
"Most very young baby birds will gape when you approach them. If they do not, waving a hand just above their heads so as to cast a shadow, like a parent bird approaching the nest, will often trigger the gape reaction. Once the bird gapes, it is easy to feed.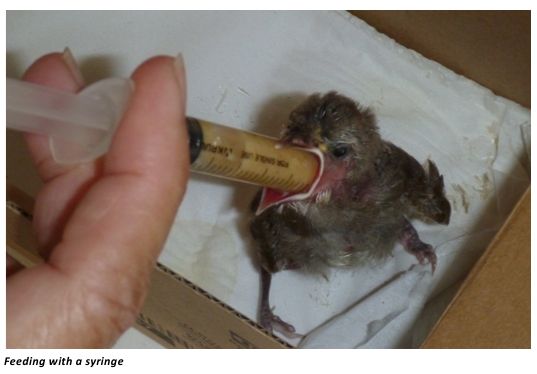 Feeding with a syringe
"From above, inject a dose of food into the gaping mouth. The syringe makes precision feeding easy. To prevent injury to the bird, do not insert the syringe down the throat. And never push the syringe against the bird, as that can rupture the gullet. Baby birds are very delicate.
"Four to five squirts should suffice. The skin on the neck of fledglings is translucent. You can easily see how full their crops are. When you see the swelling on the neck, or when the bird stops gaping, it has had enough.
"I digress here to discuss gavage, a despicable practice used in commercial aviculture and duck farming to quickly raise large numbers of young birds as well as produce foie gras for ethically insensitive diners.
"It is said that birds have no gag reaction and it is possible to ram a whole lot of food into the crop at one go. Some people inject the ration for an entire meal this way. When you are raising a whole lot of birds on a commercial farm, I can understand that this saves time.
"In my opinion, birds raised this way do not interact well with people or with other birds. Very often, they will not even gape. The feeder holds their beaks open and injects the food. Anecdotally, I have been told that parrots raised this way do not make good parents.
"As an ornithologist, I assume that you want the fledglings you rescue to grow up and continue the next generation. For that, they should develop as many natural reactions as possible. Therefore, they should gape and approach the syringe as they would the beak of their parents.
"I can probably put a full syringe into a bird at one go. But I always prefer to feed in stages, so that the baby bird interacts with me, at least four to five times, during each feeding session.
"Now comes the difficult part. Baby birds require to be fed at two-hour intervals. Yes, there are bird shops that sell fledglings and tell you that they only need to be fed thrice per day. That is simply not true.
"As a senior citizen considered well past use-by date according to most employers, I had the idle time to diligently feed Angry Bird at intervals of less than two hours, every day for three weeks. The first meal was at dawn. He always had a full crop when put to bed at dusk each evening.
"By the second week or so, baby birds will get adventurous. They will want to leave the box. This is when you will need a bird cage.
"Try to get a cage with a very large door, or, better still, one in which the entire front opens. This feature makes for convenience when feeding and cleaning. If it is the only bird cage that you intend to have, one of this type is the best when the time comes to prepare the bird for release.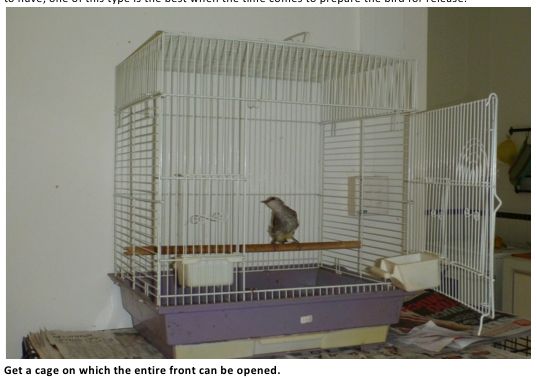 "The problem with cages is that they are exposed, and baby birds will flutter against the bars, breaking their feathers.
"Very often they will break so many feathers that they will eventually not be able to fly properly. You might then have to take care of them for another six months until they moult a new set.
"When the baby bird is transferred to a cage, keep it away from drafts, especially at night. I always cover cages with a towel at night, and ensure that no drafts from my airconditioner can get under the towel.
"Angry Bird grew quickly. In three weeks he was ready to be weaned.
Weaning
In true Singaporean fashion, baby birds prefer to be dependent. Given a choice, they want you to continue hand feeding. Mynahs and parrots have been known to insist on being hand fed even up to nine months old. Some aviculturalists oblige because they want very tame pets. On the other hand, birds that are forced to wean too early tend to be underweight.
"I would consider a bird due for weaning when the corners of the beak are no longer fleshy, and when the beak itself becomes narrow and takes on the proportions of that of an adult bird.
"To start weaning, I add a little softbill food into the feeding mix. The solid granules will not pass through a syringe, so at this stage I switch to using a coffee stirrer taken from a fast-food restaurant. If it is too large to fit into the beak, trim the plastic with scissors, making sure that you do not leave any sharp edges.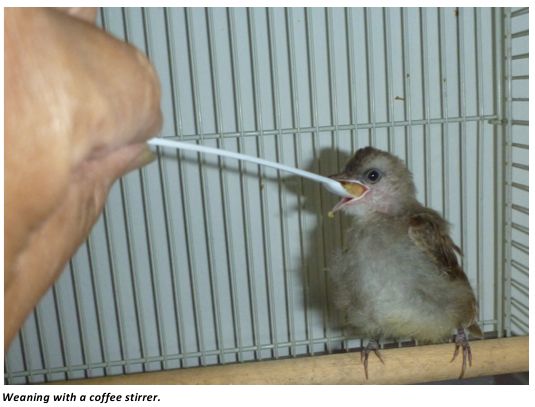 "There are many mixes sold by bird shops for feeding softbilled birds. No doubt some of the local mixes are good, but others are suspect. Some do not contain sufficient nourishment, whereas others are boosted with too much glucose and other stimulants. These are used by people who enter birds in singing competitions. The fortified mixes give boosts of energy, but are not good for long-term health.
"I have used pre-packed mixes from the German manufacturer P. Sluis and the American Purina Corporation with good effect. Purina Pretty Bird Softbill Pellets seem to be acceptable to most birds. For young birds, it may be necessary to soak and soften the pellets, though these can be served dry to adult birds.
"After getting the baby birds to eat the pellets when spoonfed, the next problem is to get them to pick up the pellets themselves. Birds when hungry will start to peck at food. If they are kept very hungry, they will wean faster.
"Though some people do this out of convenience, I don't like to force the birds to wean. I have seen too many hand-raised baby birds that were force-weaned and undersized. Once a bird has been malnourished in its development stage, it will probably not catch up to full size, however well it is treated in later life.
"This may not be a critical factor in a pet. But a bird that is to be released back into the wild has to be as fit, strong and large as possible to cope with the challenges and predators out there.
"Therefore, I continue spoon feeding baby birds until it is blatantly obvious that they can pick up food on their own.
"Young birds are wasteful and messy when being weaned. This is unavoidable. They do not recognise food in cups. I slice bananas or papayas lengthwise and spread the softbill pellets on the cut surfaces.
"The fruit juices soften the pellets, making them easier to eat. The young birds will investigate and peck at the fruit slices, inadvertently ingesting some of the pellets as well.
"After a while, I no longer serve pellets on fruit slices, but give a mixture of diced fruits and pellets. Finally, when I find the birds taking pellets readily, the pellets and fruits are served separately. And at some meals, fruit is not served.
Insect protein
"In nature, insect protein comprises an important part of the diet of baby birds, even of the vegetarian species. Modern hand-feeding formulae have sufficient protein to compensate for the lack of insects in the food, but during weaning, and after the birds are weaned, the addition of insect protein does improve the condition of almost all birds.
"The easiest but not the best insects to feed to birds are mealworms and superworms. Mealworms are about 1 cm in length while superworms are about four times as large. These are the larvae of different types of beetles that are commercially bred, and are sold in most pet shops and aquarium shops. All experienced bird keepers warn that these creatures can be dangerous to young birds. The larvae have hard shells and sharp, strong jaws. They do not die immediately when ingested, and have been known to cause fatal injuries by biting the gullets of young birds.
"I always cut these worms into several pieces before feeding them to birds, and discard the heads. The jaws can continue biting even after the worms have been cut into pieces and swallowed. Mealworms and superworms are full of starch and fat, and do not make for a balanced diet. I serve them only as treats for omnivorous birds. Insectivorous birds are a separate matter.
After weaning
"You can very often end up with a bird that is difficult to get rid of. Some, like mynahs, pigeons and doves, become ridiculously tame and trusting. Others do not recognise danger and don't know how to get out of the way of cars or children. Some species of birds are valuable, and will be poached if you simply turned them loose.
"Re-introduction into the wild takes time, and can only be done in an appropriate place. Opening a cage door in the middle of a Housing Board Estate guarantees a dead bird. What would you do if you were suddenly dumped in the middle of Moscow and told to fend for yourself?
"I have been fortunate to have lived in rural or suburban areas most of my life. The release of hand-raised birds is a process that stretches into weeks.
"The first step is to ensure that the birds can really fly. Angry Bird spent so much time fluttering against the cage bars that most of his flight feathers got broken. I will have to wait until he moults and grows another full set before starting on his release.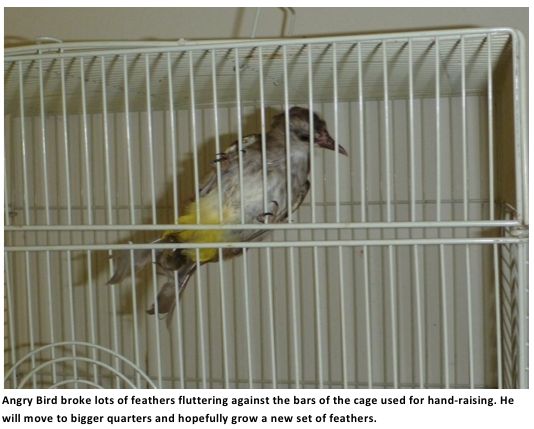 "In the past, and now for the sake of Angry Bird, I have assembled flight cages with full-opening front door. I used to breed parakeets, lorikeets and doves in such flight cages, which measure about 1 meter in length and half that in width and height. They are spacious enough that birds should not break feathers fluttering against the sides, and are made of lightweight wire and cost about $30 apiece.
"Birds meant for release were transferred to the flight cages hung in the shed behind my old house. In my present house, the flight cage for Angry Bird is in the back porch, which faces a large expanse of greenery.
"Once in the flight cages, the birds were fed with minimal human interaction. The objective was that they should not be tame, and should not like to approach people.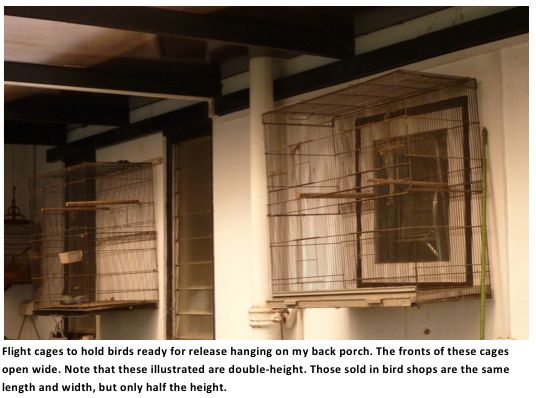 "Once they had settled in for several weeks, I would observe the wild birds in the area. For common species such as the Yellow-Vented Bulbul or the Javan Mynah, there would usually be resident pairs in most areas. The males of these pairs would come up to the bars and challenge the birds in the cages.
"I had to make sure that the birds in the cages were sufficiently self-confident and well-established so that they would not be driven away in panic once the territory-holding male confronted them. I assisted the process by shooing away the territory-holding birds whenever they challenged the birds in the cages.
"Finally, when I thought that the birds in the cages were ready for release, I would tie open the main doors, but still leave food and water inside the cages.
"It is very common for hand-raised birds to return to the cages, which they treat as home base, for days, or even weeks after the doors are opened. Right now, I have one Spotted Dove that has been coming back every morning for over six months.
"The cages also serve as the core of their territories. If the wild, territory-holding bird in an area attacks your recently-released bird, it may rush back to the cage for security. And if you have been shooing away the other birds in the area, they might not dare to pursue your bird back into its cage.
"After this stage, it is all touch-and-go, hit-or-miss. There is no guarantee that the original territory-holder in any place will co-exist peacefully with your bird, or that your bird can succeed in displacing the other bird. And, despite your efforts not to make your bird too tame before release, there is also no guarantee that it will not be too trusting and come to grief.
"Our web-master is right. Hand-raising baby birds is a thankless and often futile task if you plan to release them. But sometimes, there is no alternative, and I just have to be prepared to have an additional mouth to feed that I really do not want, but who might be with me for a long time.
"No wonder he is an Angry Bird.
Raising other types of birds
"Besides omnivorous softbills and seed eaters, I have also hand-raised insectivorous thrushes (shamas, magpie robins and pittas) gallinules (quail) herons, bitterns and owls. Some of my friends have raised raptors and sunbirds. These are the things you would do differently for these other types of birds.
Insect eaters
"The processes are the same as those for raising a bulbul, but the diet is different. The base diet should be an insectivorous mix, which can be bought from reliable bird shops. Try to get the German or American mixes rather than the local formulae, which are not consistent. The formulated diet has to be mixed with water for baby birds, and must be supplemented with fresh insects.
"Live crickets, mealworms and superworms are sold at most bird shops. When bought, the insects or larvae are often starved and not nutritious. Gut-loading is necessary. This involves feeding the feeder insects well, and ensuring that they are fat and have full stomachs, before they go into your birds. Many insectivorous birds, especially when they are young, require vegetables and fruits in their diet, but will not eat these items on their own. You have to feed insects full of fruits and greens, and then feed the insects to the birds. Mealworms readily take apple peelings. Crickets do well with a mixture of chicken feed and slices of orange.
"The gruesome part is snipping them up with scissors into bite-sized pieces for the baby birds.
"Flying termites, when they appear, are really appreciated by the birds. They are not too difficult to catch.
"I have found that pittas like a diet with a large proportion of earthworms. Feed with soil still adhering to the worms.
"The biggest problem with insect-eating songbirds is that they are aggressive and usually very valuable. If released close to human habitation, it will not be long before someone attracts them with a decoy and traps them for sale.
Sunbirds
"The processes are the same as for raising a bulbul, except that a nectar-based diet is used. I used to keep and breed lorikeets, nectar-feeding parrots, and know that very reliable American-made nectar-based diets are available.
"A mixture of nectar-based diet and insectivorous bird diet is used for weaning sunbirds.
"Remember that sunbirds are very small. The portions served at each feeding must be adjusted accordingly.
"After being weaned, sunbirds will eat insects and some soft fruit in addition to the nectar, which makes up the staple diet.
Gallinules
"Pheasants, jungle fowl and quail are the easiest baby birds to raise. They can feed themselves from a very young age. Many quail also never become really tame, but remain skittish around people. Releasing them into the right environment is no problem.
Herons, bitterns and egrets
"These are easy, but very smelly to raise. Herons and bitterns eat fish. Simply buy small fish from the market and slip these down their throats. I have found that the Chestnut Bittern and the Little Green Heron do not gape. You have to hold the bird, open the beak and slip the small fish down the throat. They are hardy, and grow strongly. But their droppings stink.
"I have not raised Cattle Egrets myself, but know people who have. They seem to be all right on a diet with some fish, meat, crickets and superworms.
"I used to live near the Serangoon River, and simply left the cage doors open for the herons and bitterns. I assume that they eventually found their way to the river banks.
Owls and raptors
"Roughage is an important component in the diet of these birds. When I had baby Collared Scops Owls, there were still chicken hatcheries in most villages. As I had a number of other exotic pets at that time (long before Singapore enforced any regulations on keeping wildlife) I was a regular customer for the discards, malformed chicks that did not hatch properly. These, freshly dead, would be fed, feathers, bones and all, to the baby owls, which flourished.
"I don't know where to get suitable meat or poultry with the feathers and bones still attached any more, but have read that mixing cotton wool (natural fibre, not synthetic) into minced chicken can produce a workable substitute.
"The trouble with owls is that they become ridiculously tame and attached to people, and refuse to leave.
"I have never raised raptors, but know friends who have. They have not been able to release their birds because these huge and impressive birds attract attention. Being hand-raised, the tame raptors do not know how to avoid attempts to capture them.
Lee Chiu San
Singapore
3rd September 2012