In Taiwan, there is only one barbet, the Taiwan Barbet (Megalaima nuchalis). This bird is a beauty. Locally called the 'five-coloured bird' because of the 5 plumage colours: green – overall plumage, red – loral spot and lower breast band, blue – breast band and cheek and forehead, yellow – chin and lower forehead, black – eyebrow (below).
In addition, there is a red patch on the nape. Of this nape patch, Hsiao says of females "red patch on nape indistinct or lacking" (Mu-Chi Hsiao, Cheng-Lin Li. 2017. A Field Guide to the Birds of Taiwan. Wild Bird Society of Taipei). Other sources like Brazil 2009, Avifauna of Taiwan (2nd edition), Handbook of the Birds of the World (2019), all suggest sexes are similar. In addition a paper on the 'Breeding Biology of the Taiwan Barbet (Megalaima nuchalis) in Taipei Botanical Garden' by Lin, Lu, shan, Liao, Weng, Cheng & Koh (The Wilson Journal of Ornithology 122(4):681–688, 2010) state for their study that "The gender of the adults was ascertained by observing their positions during copulation (male mounting the female from rear) and was identifiable by learning the key features between individuals in the pair." Having observed 28 breeding pairs, no mention was made of this plumage difference.
I am curious why Hsiao made this comment. He is an experienced bird watcher and must have some good reasons/observations to support this opinion. On one evening, during our recent trip to Taiwan, we came across 5 adult Taiwan Barbets that were trying to feed on some berries. Above is a composite of 4 of them focusing on the nuchal region. You can see that the degree of red at the nape varies both in colour, intensity, size and presence. I also looked at images in OBI database, online and my older images of adult Taiwan Barbets. There is colour and intensity differences between birds; in some it is very apparent and bright red; in others it is more orange or yellow; in some it is not very apparent.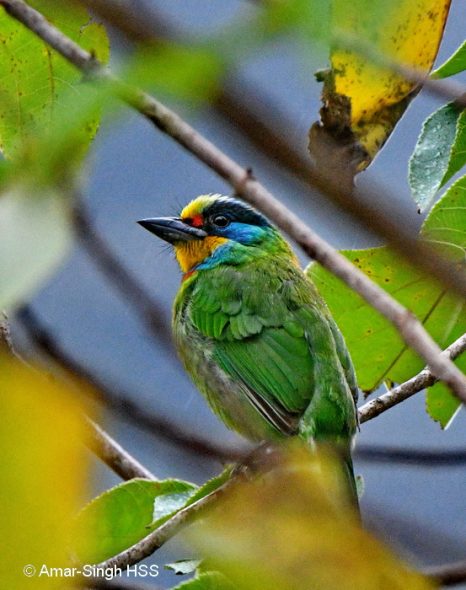 I would like to make some comment about Hsiao's observation:
Photographic imaging (of visual watching) of this red nape patch is not easy as often birds turn towards us when being watched, so it may not be seen so often.
In addition the posture of the bird affects the extent the patch is 'displayed'. It is better seen when the neck is flexed forwards. So, the patch may be poorly seen in a bird with an extended neck.
I wonder if the difference we are seeing is due to breeding changes? Or else Hsiao may be right and there is a real sex difference.
Amar-Singh HSS (Dato' Dr)
Ipoh, Perak, Malaysia
16th January 2019
Location: Taichung City County, Taiwan
Habitat: Recreational area
Equipment: Nikon D500 SLR with Tamron SP 150-600mm f/5-6.3 Di VC USD, handheld with Rode VideoMic Pro Plus Shotgun Microphone