I saw this young (immature) self-feeding Flowerpecker at the forest edge in Ipoh on 22nd July 2021 (below). It had a white malar stripe developing with some yellow in the breast. There was a thick orange bill tipped with black. There was no orange or scarlet patch on the crown (had more images to see this well).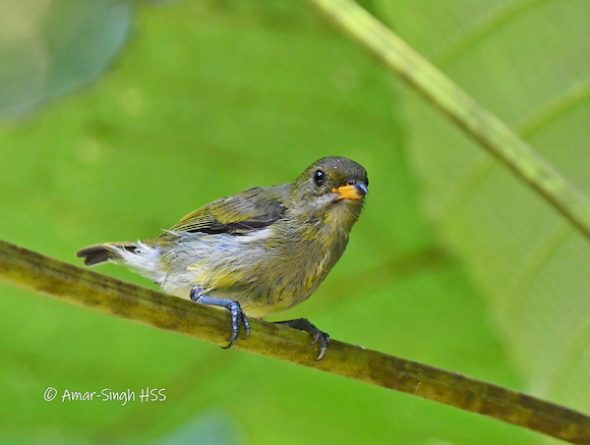 This is a juvenile/immature Crimson-breasted Flowerpecker (Prionochilus percussus ignicapilla). At present it is hard to say a male or female.
Having seen many juveniles over the years I thought I would extract a few images and show the progression from a young juvenile to adulthood in the composite image (below):
Birds 1 and 2 are a younger and older juvenile.
One of the first signs of change is the bill tip becoming black (No 2) with some yellow in the breast & an early malar flash. By this time they are self-feeding.
Bird 3 is an immature female – it had an orange crown patch, a darker bill and more yellow in the breast.
Bird 4 is an immature male – it had a darker bill, deeper yellow in the breast and blue appearing above.
Bird 5 is an adult female.
Bird 6 is an adult male.
Amar-Singh HSS (Dato' Dr)
Ipoh, Perak, Malaysia
22 July 2021
Location: Dasyueshan National Forest Recreation Area, Taichung City County, Taiwan
Habitat: 2400 meter ASL, forested region.
Equipment: Nikon D500 SLR with Tamron SP 150-600mm f/5-6.3 Di VC USD, handheld with Rode VideoMic Pro Plus Shotgun Microphone.