Green Ioras (Aegithina viridissima viridissima) are not uncommon birds but hard to watch or image well as they are high canopy species and blend well with the forest green.
Had a small group of 4 today that were much lower (usually social group in my experiences is 5-7 birds).
The broad, bright yellow upper and lower eye lids (Wells 2007) are what make the male stand out, even in the shade.
The commonest prey taken is insect and they will spend much time looking under leaves and inspecting the foliage; all the while calling out (contact calls).
Common member of mixed foraging parties, and on this occasion with Ruby-cheeked Sunbirds (Chalcoparia singalensis).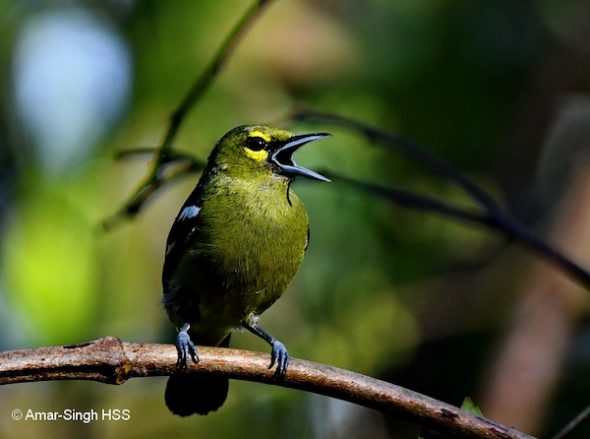 Amar-Singh HSS (Dato' Dr) – Ipoh, Perak, Malaysia
Location: Ulu-Kinta, Ipoh, Perak, Malaysia
Habitat: Mixed Secondary and primary forest
Date: 28th May 2020
Equipment: Equipment: Nikon D500 SLR with Nikon AF-S 105mm f/2.8G VR IF-ED