Common Mynas (Acridotheres tristis tristis) in the city often nest in man-made sites. The old disused junction boxes of street lights, located 5 meters up, are a particular favourite; as non-functioning street lights. Breeding pairs will have fierce and bitter fights to take ownership of such 'prized' nesting sites. I find this choice of nesting site odd as it is very hot and exposed; but they seem to breed with little difficulties.
A pair has been nesting in a junction box in my neighbourhood for some years (above). Sadly the street light malfunctioned and the repair men who came, removed their completed nest and discarded it.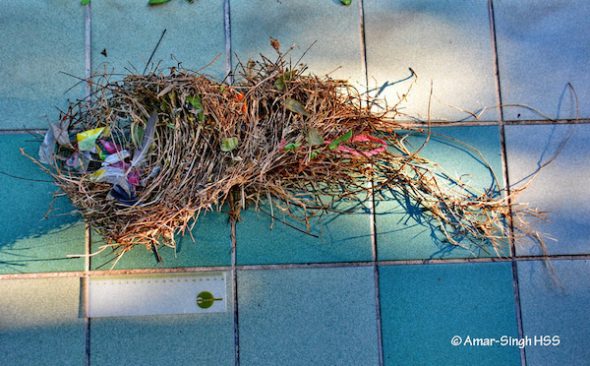 I was able to retrieve it for inspection and measurements (above and below).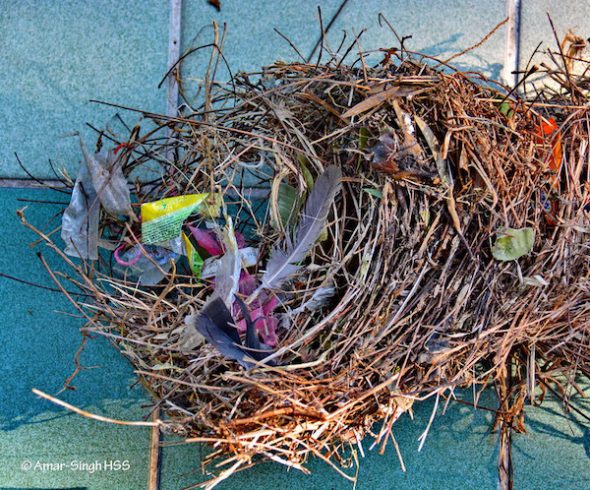 The nest is a long structure, trailing out of the box. It is made predominantly of dried grass with some leaves of the Azadirachta indica (Neem tree) and Syzygium grande (Eugenia grandis), interspersed with raffia. The nesting cavity is filled with plastic strips, string and feathers.
Dimensions (above): Total length 43 cm (minus some trailers); internal cavity dimensions 14 x 12 cm; External nest dimensions 21 x 16 cm.
Amar-Singh HSS (Dato' Dr)
Ipoh, Perak, Malaysia
Location: Ipoh, Perak, Malaysia
Habitat: Urban environment
Date: 25-26th July 2020
Equipment: Equipment: Nikon D500 SLR with Nikon AF-S Nikkor 500mm f/5.6E PF ED VR, handheld with Rode VideoMic Pro Plus Shotgun Microphone