We came home from lunch today to find, sadly, a dead adult Hooded Pitta (Pitta sordida cucullata) in the garden; possibly died in the past 1-2 hours. One eye had an old injury and looked blind, which may have accounted for an easier impact into a window (presumed cause of death).
Some images taken to document features. Note the orange at the base of the mouth in the image above, of which Wells 2007 says "many autumn migrants in full adult plumage are orange at the angle of the mouth".
Lower tail-coverts bright red (above).
Note in the above image the upper tail-coverts and lesser wing-coverts are brilliant electric blue or turquoise.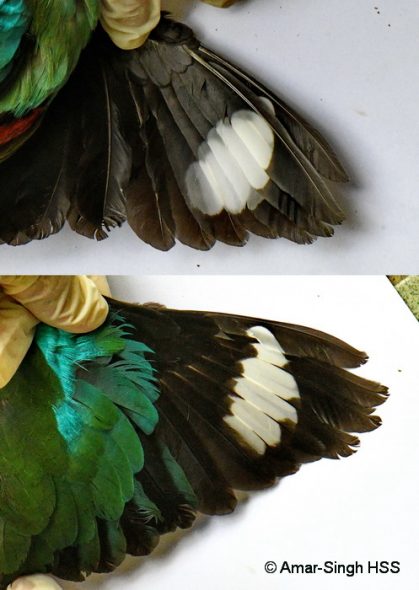 Note the oval white patch on the flight feathers in the image above (top: under-surface, bottom: dorsal surface; also seen in the first and second images from top of this page). This is larger in males cf. females (see Wells 2007 for a full description).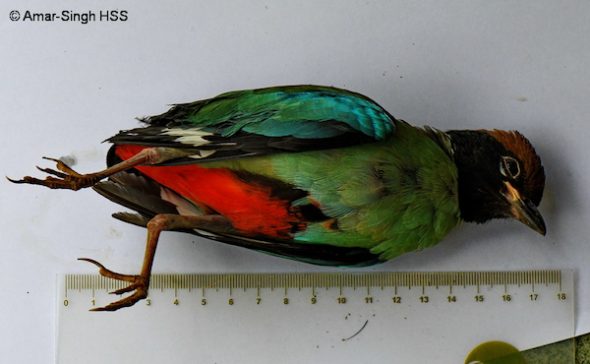 In males it usually involves flight feathers P2/3 to P9/10; in females it involves flight feathers P4/5 to P8/9. But it can be variable in both. In this bird the oval white patch involved flight feathers P5 to 10. Inclined to think this could be a female.
Amar-Singh HSS (Dato' Dr)
Ipoh, Perak, Malaysia
Habitat: Urban environment
Date: 8th December 2018
Equipment: Nikon D500 SLR