Sexing of Zebra Doves (Geopelia striata) is best identified by courtship behaviour with male bowing and displaying. When not mating physical sex differences are subtle and not necessarily consistent. Calls between sexes also do not appear to be different.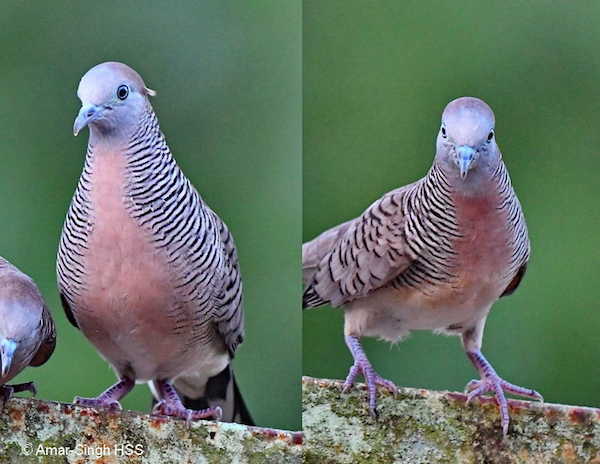 Gibbs, Barnes and Cox (2001) suggest that in females the barring in the breast is more extensive (extends further onto the breast) and the pinkish centre to breast more restricted in extent. 
Having observed this pair of mating I was sure of the sex. The composite image (identical post image processing) shows the male on the left and female on the right. The differences are subtle. 
Reference:
Gibbs, D., Barnes, E. and Cox, J. (2001). Pigeons and doves: a guide to the pigeons and doves of the world. Pica Press, Robertsbridge.
Amar-Singh HSS (Dato' Dr)
Ipoh, Perak, Malaysia
21st May 2020
Location: Ipoh, Perak, Malaysia
Habitat: Urban environment
Equipment: Equipment: Nikon D500 SLR with Nikon AF-S 105mm f/2.8G VR IF-ED