I have noted Black-naped Orioles (Oriolus chinensis maculatus ) robbing the nests of other birds occasionally and observed birds chasing Black-naped Orioles away from nests more often. Most observations are too fast to document easily on camera or video. In February 2018 I reported a pair of Pied Trillers (Lalage nigra) defending their nest from a Black-naped Oriole. They managed to chase it off after a series of 'dive-bombing'.
On this occasion I saw a Black-naped Oriole examining a Baya Weaver (Ploceus philippinus infortunatus) nest for nestlings. The nests do not appear to be fully constructed, so I am not aware if there were any young inside. The Black-naped Oriole inspected a few of them (probably listening for calls) and then put its head fully into one nest but I was too far to be sure if an egg or nestling was taken.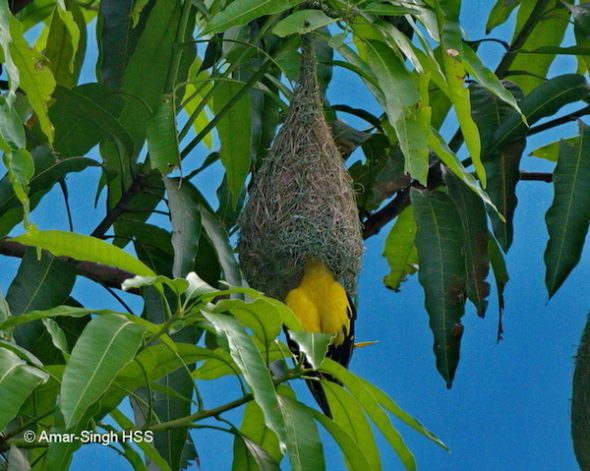 Wells (2007) and Birds of the World (2020) both report bird nestlings as part of the diet of Black-naped Orioles. Pixiest (2012) shared a video of a Black-naped Oriole eating eggs from a Myna nest. TK Tan (2007) and O'Neill (2005) both report Black-naped Orioles attacking Sunbird nests in their gardens. Posey from Study.com states that: black-naped orioles will sometimes raid the nests of other birds. They eat their eggs and even young baby birds. Because of this, other birds will chase black-naped orioles away during breeding season.
There are sufficient reports to suggest that this behaviour is not uncommon. Whether it forms a large part of the diet of this species, or if nests are robbed as food for their young, is uncertain.
References:
Wells, D.R. (2007) The birds of the Thai-Malay Peninsula: Vol. 2 (Passarines). Christopher Helm, London.
Walther, B. and P. Jones (2020). Black-naped Oriole (Oriolus chinensis), version 1.0. In Birds of the World (J. del Hoyo, A. Elliott, J. Sargatal, D. A. Christie, and E. de Juana, Editors). Cornell Lab of Ornithology
Pixiest. 2012. Black naped oriole eats Myna eggs. Available here: https://www.youtube.com/watch?v=IYD7fiROy1A
Tan Teck Koon. July 2007. Black-naped Oriole attacking sunbirds' nest. Bird Ecology Study group. Singapore. Available here: https://besgroup.org/2007/07/08/black-naped-oriole-attacking-sunbirds%E2%80%99-nest/
Daisy O'Neill. August 2005. Black-naped oriole: Egg raider and chick killer Bird. Ecology Study group. Singapore. Available here: https://besgroup.org/2007/08/06/black-naped-oriole-egg-raider-and-chick-killer/
Lauren Posey from Study.com. What is a Black-Naped Oriole? – Lifespan, Diet & Migration. Available here: https://study.com/academy/lesson/what-is-a-black-naped-oriole-lifespan-diet-migration.html
Amar-Singh HSS (Dato' Dr)
Ipoh, Perak, Malaysia
Location: Ipoh, Perak, Malaysia
Habitat: Urban environment
Date: 10th February 2020
Equipment: Equipment: Nikon D500 SLR with Nikon AF-S 105mm f/2.8G VR IF-ED