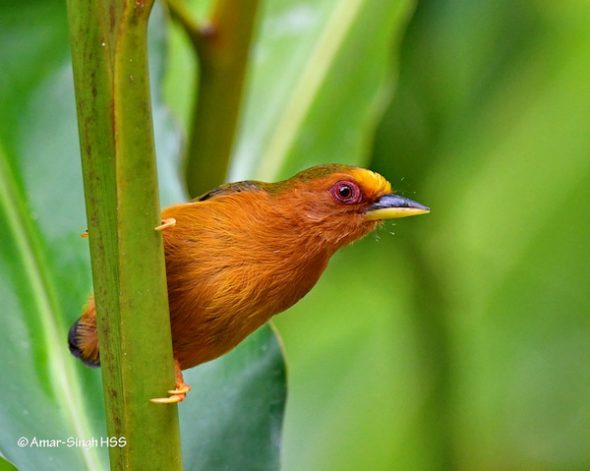 Came across a single adult male Rufous Piculet (Sasia abnormis abnormis) that was part of a lowland mixed foraging party (bird wave).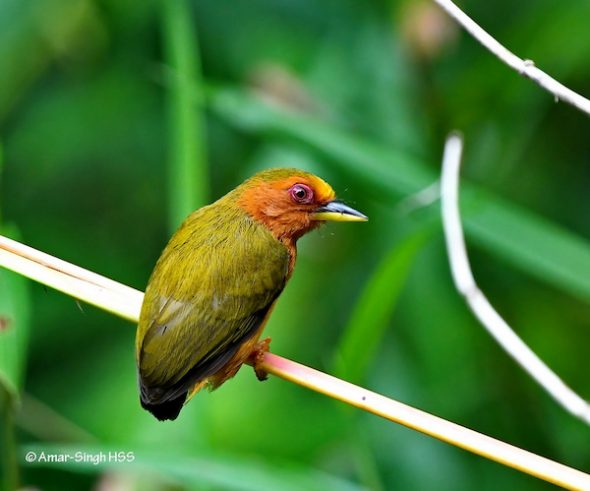 The other birds in the mixed foraging party were:
Chestnut-breasted Malkoha (Phaenicophaeus curvirostris) – two
Olive-winged Bulbul (Pycnonotus plumosu) – four
Red-eyed Bulbul (Pycnonotus brunneus) – two
Crimson-breasted Flowerpecker (Prionochilus percussus) – a pair and an immature
Purple-naped Sunbird (Hypogramma hypogrammicum) – a pair
Little Spiderhunter (Arachnothera longirostra) – one
And others not identified (bulbuls, etc)
Note the lemon-yellow lower mandible contrasting with the black upper mandible, the red iris (adult), purple orbital ring and frontal yellow seen in males. The feet are orange and the under parts and rump are orange-chestnut. The tail is black, very short and not well seen.
Amar-Singh HSS (Dato' Dr)
Ipoh, Perak, Malaysia
Location: Ipoh, Perak, Malaysia
Habitat: Broken primary forest with secondary growth
Date: 15th October 2020
Equipment: Equipment: Nikon D500 SLR with Nikon AF-S Nikkor 500mm f/5.6E PF ED VR, handheld with Rode VideoMic Pro Plus Shotgun Microphone