Dave Culley runs the Sparrowhawk Island website that captures many species of British birds in the wild on web-cams (web cameras). He has 16 live cams running at the same time, three directed on nests and two on chopping blocks where the birds eat and mate (below).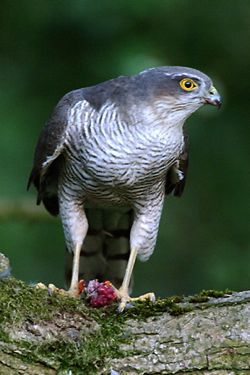 These cams are permanently fixed in the woods in Cheshire, England and in Dave's garden. They have been there for the past three years and Dave has been studying the birds of the area since then. The cams have captured the behaviour of many of these birds, especially the Eurasian Sparrowhawk (Accipiter nisus), also known as Northern Sparrowhawk (left). This is a shy and elusive bird and by setting up the cam, he has managed to document much of its behaviour that otherwise would go unnoticed. The image on the left shows a female adult Eurasian Sparrowhawk with a kill.
This sparrowhawk has been nesting in his garden and a footage can be viewed HERE, showing a female incubating her eggs; and HERE showing nesting and courtship.
You can subscribe to Dave's live footage and view the activities 24 hours a day, 7 days a week and 365 days a year for a nominal sum to contribute to the cost of running the video cams.
Image of sparrowhawk by Steve Magennis; Chris Sperring MBE provided various assistance.
Note: Web-cams are useful in the study of breeding behaviour without disturbing the birds unnecessarily. The Singapore Hornbill Project has been able to record the first case of parental infanticide among the Oriental Pied Hornbills (Anthracoceros albirostris) breeding in the offshore island of Pulau Ubin by such monitoring.
The recent postings of the nesting of the rare Malayan Whistling Thrush (Myophonus robinsoni) in Cameron Highlands, Malaysia and monitored in Singapore is another example of its use.