Adrian Lim a.k.a wmw998 documented a pair of courting Blue-eared Barbet (Megalaima australis) in Malaysia sometime in May 2008
The female was perching on a branch of a tree doing nothing in particular. Suddenly there was a loud call, made by a male nearby. He had food in his bill but this did not prevent him from making "such sweet music" as described by Adrian (left). The male was puffing and blowing to expand his throat pouch. As the pouch expanded, it pushed aside the black feathers that make up the black upper breast band, exposing a smooth, rounded, black sac.
The female was attracted to the male's display but waited for him to come close and make his courtship offering of food. Only then was there copulation. Each act of copulation was preceded by an offer and actual transference of a succulent fig to the female (below). No fig, no sex! *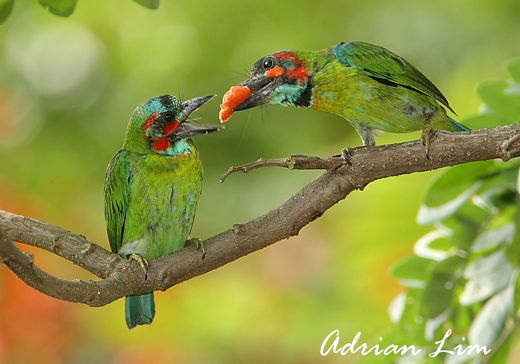 This courtship feeding of fruits followed by copulation went on for a number of times, as is typical of barbets (below).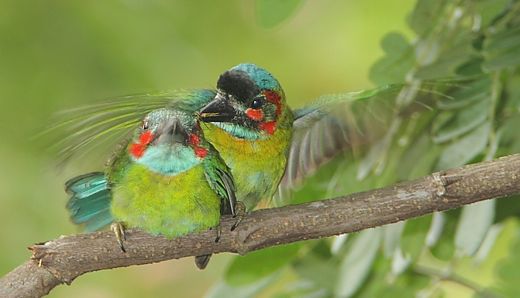 In the image below the male is covering the female with his wings in another act of copulation.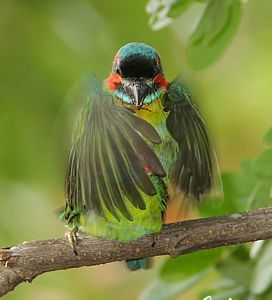 The courtship feeding of the Blue-eared appears different from that of the Coppersmith (M. haemacephala). Whereas the former offered one fig per act of copulation, the latter often got away with less number of fruit as compared with number of copulations – often getting away with two for the price of one. Such behaviour was confirmed by another observation where the Coppersmith managed to copulate with the female, to only release the fruit after and not before. And then he mounted her a second time without offering a second fruit. Two for the price of one!
During mating, singing by the pair is incessant and simultaneous, with head bobbling, side to side tail movement, all these in an aggressively looking manner (Short & Horne, 2002).
Adrian confirms the above with his statement about the male: "Blue-eared Barbet seems to make very loud noise most of the time, when it is not having a female or attracting a female… Normally, it sounds like 'CHIOK CHIOK', and it can be doing that for minutes at a time. I have a feeling that it is trying to make its presence known to other males. This is a 'territorial behaviour' perhaps!
"However, when it is courting a female, or trying to attract a female to a certain perch or tree, the noise is much gentler and softer, and totally different from the 'CHIOK CHIOK'. I can't describe the sound to you in words, but in both cases, you can see the black sac."
There seems to be no mention of the prominent black throat pouch in the literature. As such, this can be a first record in the Blue-eared Barbet, or any barbet for that matter. Discussion of this throat pouch will be posted in the next few days. So stay tuned!
Addenda:
"I have to clarify here that the courtship is a process that is likely to continue for a few days at the least, between the pair. It is not a case of a male going out to have a 'good time', spotted a female and making a lot of noise to attract it! In my opinion, the birds had already 'accepted' each other, and so the offer of food was like feeding a young, nothing spectacular, no noise making at all, even when the ACT was over. The only time that the gentle sound was made was when the female bird flew off for reason such as disturbance by other birds or animals, and the male wanted to call it back to the same tree." Adrian, 1st June 2008
*Adrian has written in to clarify that there were occasions when "…the male bird would feed the female continuously, and only once in a while, got on top of her, though still with the food held in the beak and about to offer her." 4th June 2008.
Reference:
Short, L. L. & Horne, J. F. M. (2002). Family Capitonidae (Barbets). Pp. 140-219 in: del Hoyo, J., Elliott, A. & Sargatal, J. eds. Handbook of the birds of the world. Vol. 7. Jacamars to Woodpeckers. Barcelona: Lynx Editions.
All images by Adrian Lim.
An account of this barbet's gular sac has now been published:
Lim, A. T. H., L. K. Wang & Y. C. Wee, 2009. The Blue-eared Barbet Megalaima australis and its gular sac. BirdingASIA 11: 98-101.
This post is a cooperative effort between NaturePixels.org and BESG to bring the study of bird behaviour through photography to a wider audience.