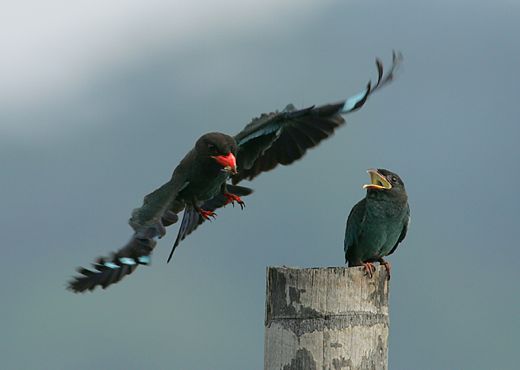 The construction of the boardwalk in Changi in 2003 has proved to be a boom to bird photographers, especially that section known as Kelong Walk. Here, nibong (Oncosperma sp.) stems have been used to give this section of the walk a "kelong" look reminiscent of the old fish traps that once were common around the local coasts.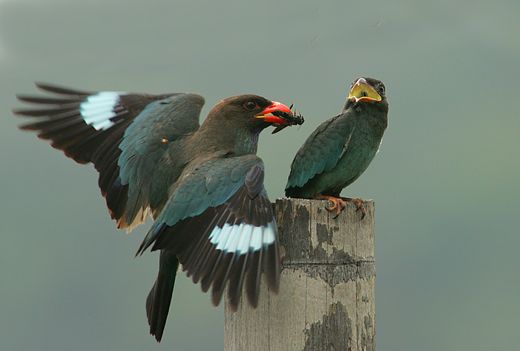 Due to the weather, the top portions of these posts have worn down, providing nesting cavities to Dollarbirds (Eurystomus orientalis). And bird photographers have been flocking there to document the nesting behaviour of these birds.
In 2007 James Wong a.k.a. Jw73 photographed the adults feeding the recently fledged chicks with insects (top, above). Fry (2001) reports that Dollarbirds take large insects like beetles, mantises, grasshoppers, shield-bugs, cicadas, moths and termites. A recent post shows the adult catching a shield-bug (Cantau ocellatus) to feed its young.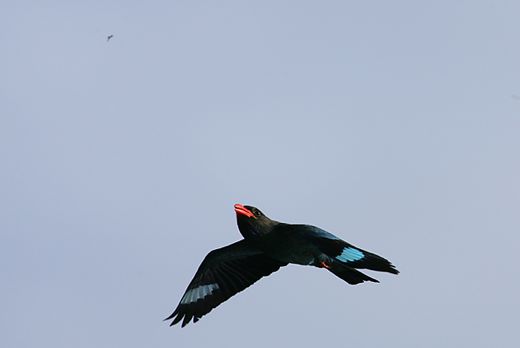 Insects are caught on the wing (above) and brought back to the perch where they are shaken rather than beaten against the branch (below).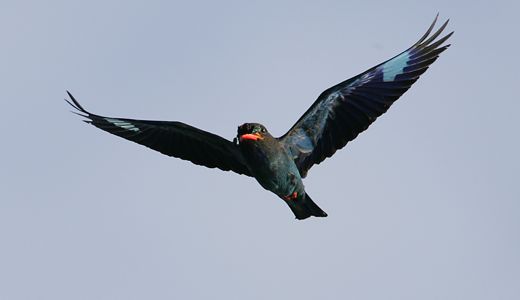 Reference:
Fry, C.H. (2001). Family Coraciidae (Rollers). Pp. 342-377 in: del Hoyo, J., Elliott, A. & Sargatal, J. eds. (2001). Handbook of the birds of the world. Vol. 6. Mousebirds to Hornbills. Barcelona: Lynx Editions.
All images by James Wong.
This post is a cooperative effort between NaturePixels.org and BESG to bring the study of bird behaviour through photography to a wider audience.