L-P: Hilary Briffett, Shamla Subaraj, Subaraj Rajathurai, Clive Briffett.
Bird Group: The Nature Society has always farmed out activities to special interest groups. The late Clive Briffett formed the Bird Group 1984. Under his leadership, guided walks, bird race, bird surveys, water bird census and bird counts were introduced. A monthly in-house newsletter, Singapore Avifauna, was later started to record bird sightings and an updated checklist of birds became available in 2007. The raw data from this formed a major part of the data in the Annotated Checklist of Birds of Singapore.
An Eye On Nature by D.H. Murphy and Kwan Hun.
Photo Group: As far back as the early 1980s a small group of enthusiastic nature photographers formed the Photo Group. This was a time when popular nature books published overseas and available in our bookshops were full of illustrations of foreign plants and animals. History was made when the first book on regional insects, An Eye On Nature, was published in 1983 by D.H. Murphy (text) and Kwan Hun (colour images). This was followed a decade later by a series of nature history books books by Dr. Chua Ee Kiam: Ours To Protect (1993), Pulau Ubin, Ours to Treasure (2000), Chek Jawa, Discovering Singapore's Biodiversity (2002) and Singapore's Splendour: Life on the Edge (2006). Currently the Photo Group is inactive.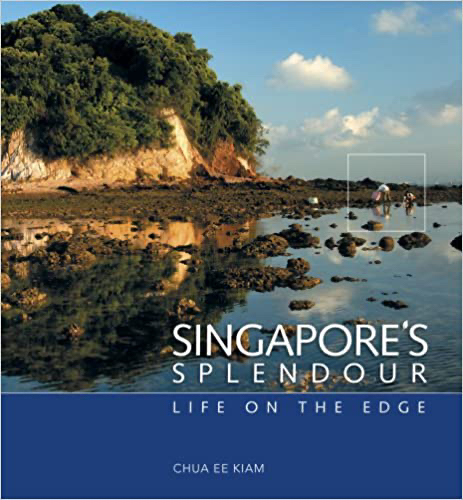 Singapore's Splendour: Life on the Edge by Dr. Chua Ee Kiam.
When digital photography came onto the scene around the early 2000, a group of enthusiastic nature photographers approached the society to reactivate the Photo Group which was then in dormancy. The society rejected the initiative and the group went on to form the Nature Photographic Society (Singapore).  Was this move due to lack of foresight or was it because the society only accepted proven, loyal members forming activity groups? In due cause the Bird Group realised that it needed outside help to progress as none of its members were proficient in bird photography. Lee Tiah Kee, a keen independent bird photographer was then courted and with his excellent images saw the publication of a few guide books on the birds of Singapore.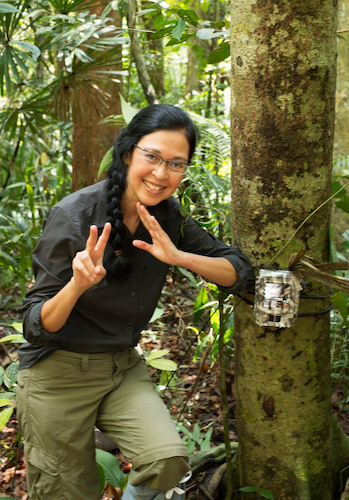 Dr. Vilma D'Rozario.
Education Group: The group under the leadership of Dr. Vilma D'Rozario in the 1990s worked closely with schools, using the outdoors as a living classroom. She persuaded schools to set up eco-ponds and butterfly gardens and conducted workshops with catchy titles like Fun with Frogs, Mad about Monkeys and Stuck with Sticks, the sticks referring to stick insects. To instil the love of nature, she got the children to interact closely with various animals, even handling some of them, to remove their fear of the unfamiliar. In 2008 Vilma passed on the leadership to Gloria Seow so that she could spend more time with the Cicada Tree Eco-place, the NGO that she had set up earlier. Moving away was how she avoided the growing internal politics that arose from groups lacking confidence in their own leadership.
Horseshoe crab (Courtesy of Wild Singapore).
Conservation Committee: Richard Hale's success in persuading government to set up the Sungei Buloh Wetland Reserve triggered the formation of the Conservation Committee. Richard naturally filled the Chairman's post before he graciously stepped down to make way for Dr. Ho Hua Chew. In 1990 The Master Plan for the Conservation of Nature in Singapore was published that was well accepted by the authorities. The first activity, a survey of horseshoe crabs under the leadership of Dr. Hsu Chia Chi saw the results published in the journal Aquatic Biology in 2011. Unfortunately the committee subsequently got involved in a series of press confrontations with government demanding the conservation of a series of habitats from grassland to patches of old trees, as long as there were plentiful birds, usually during their evening arrivals to roost and their early morning preparation to leave the roost for their feeding grounds. These confrontations led to the committee losing credibility for its inability to recognise habitats with conservation value.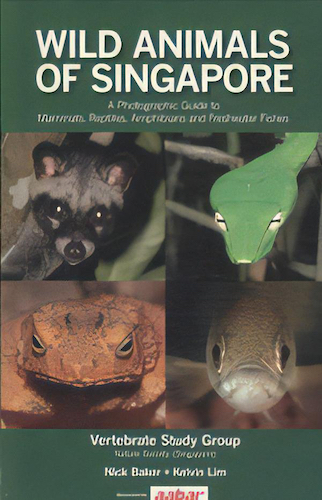 Wild Animals of Singapore.
Vertebrate Study Group: Formed in 1993 under the leadership of the late R. Subaraj. Members shared an interest in mammals, reptiles, amphibians and freshwater fishes. Members conducted surveys of nature reserves as well as other habitats like mangroves, fresh-water swamps and offshore islands. Such surveys revealed that many forest vertebrate species, thought to be locally extinct were still around, albeit rare. These include banded leaf monkey (Presbytis femoralis), Sunda slow loris (Nycticebus coucang), Malayan porcupine (Hystrix brachura). leopard cat (Prionailurus bengalensis) and five-banded flying dragon (Draco quinquefasciatus). Findings have been compiled into a pocket guide under the editorship of Nick Baker and Kelvin Lim. A Photographic Guide to Mammals, Reptiles, Amphibians and Freshwater Fishes is fully illustrated with most of the images taken in or adjacent to the animals' natural habitats. The guide also includes a checklist of freshwater fishes, amphibians, terrestrial reptiles and terrestrial mammals of Singapore.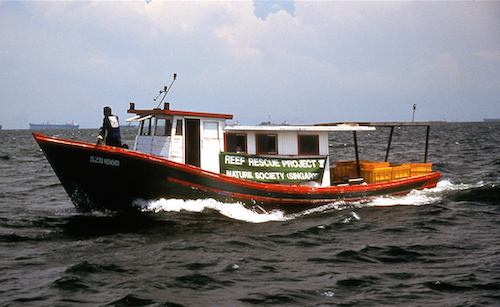 Reef Rescue Project.
Marine Conservation Group: In 1985 the Marine Group, under the leadership of Helen Newman, initiated a coral rescue project that relocated hard corals from areas destined for reclamation. In 2006 marine enthusiasts become seriously concerned about the lack of protection for the marine habitats, leading to the formation of the Marine Roundtable forum and the eventual drafting of the Singapore Blue Plan. The group also published Singapore Waters – Unveiling Our Seas. It contributed feedback on the remaining marine habitats to the Singapore Green Plan 2002, Urban Redevelopment Authority's Parks and Waterbodies Plan 2002 and URA Masterplan. In 2006 the group got involved in Project Noah (Nurturing Our Aquatic Heritage), initiated by the Singapore Underwater Federation. The plan was to provide a so-called clear underwater paradise at the offshore island of Pulau Hantu. The subsequent uproar by marine biologists, claiming that the project would actually destroy the thriving marine biodiversity forced the society to withdraw from the project.

Volunteers cleaning beach.
Jalan Hijau (Green Path) was started in 1992 by Cynthia-Wee Hoefer. Activities centered on brown issues like recycling, waste minimisation and green consumerism. The group also published Singapore's first Green Directory. This was at a time when such issues were not in vogue and the Singapore Environment Council had yet to be formed. In 1999 the group was revived as a youth group, working closely with other NGOs and becoming involved in various outreach initiatives like saving dolphins and beach cleaning.

A Field Guide to the Butterflies of Singapore.
Butterfly and Insect Group was formed in 1996. Talks and guided walks were conducted and A Field Guide to the Butterflies of Singapore was eventually published, authored by Gan Chong Weei and Simon Chan Kee Mun. Under the leadership of Steven Neo, A guide to the Butterflies of Singapore was published under the Singapore Science Centre's pocket book guide series. Members also offered their expertise in the setting of butterfly gardens in schools, Alexandra Hospital (2002) and Singapore Changi Airport ( 2007). A 4 km butterfly trail along Orchard Road was developed in collaboration with National Parks Board, Singapore Tourism Board and Orchard Road Business Administration. Currently the group is under the leadership of Abiel Neo.
A Guide to the Faboulous Figs of Singapore.
Plant Group was formed in 1999 to encourage plant appreciation. The group gathered a small number of fig enthusiasts popularly known as Figgies by the then Chairman, Dr. Shawn Lum. Members met monthly and roamed around to locate nearly 50 species of figs (Ficus spp.) to finally compile their findings into a pocket-sized guide on local figs. The current Chairman is Bian Tan but Angie Ng, an earlier Chairman, remains the live wire of the group.

BESG banner.
The Bird Ecology Study Group (BESG) was formed in 2005 to encourage the study of birds and their links with all aspects of the natural environment. Dr. Wee Yeow Chin, R. Subaraj and Richard Hale led the group. This group was to complement the Bird Group whose activities were becoming more and more recreational. Local birdwatchers had already acquired the necessary skills to identify birds in the field but knowledge of bird ecology and behaviour was sadly lacking. There was thus a need to study bird behaviour, from food birds take to nesting habits and inter-specific behaviour like pellet casting, anting, etc. A website (www.besgroup.org) was set up with the help of Jacqueline Lau. On January 2012 BESG broke away from the Nature Society and got affiliated to the Lee Kong Chian Naturel History Museum, National University of Singapore. On January 2020 the website stopped postings until Teo Lee Wei and Wong Kais came forward to take over its running in July 2021.
YC Wee
26th April 2023