The Abbott's Babbler (Malacocincla abbotti olivacea) is said to take insects and invertebrates. There is no mention of fruit (frugivory) in their diet. Wells (2007) notes one observation that suggests a fruit item may have been brought to nestlings. 
The Abbott's Babbler is a reasonably common babbler in Ipoh City, existing in many green-lung pockets. On 27th April 2023, at one such location in Ipoh, Perak, Malaysia, I observed an adult pair foraging. 
They are classically described as foraging among leaf litter and, close to, or on the ground.
As I have observed and documented, on a number of times, the birds I see often forage fairly high up. Today the pair was seen foraging from the ground up to 7 meters in the trees. As usual they check under both living leaves as well as some dead leaf litter; for insect prey.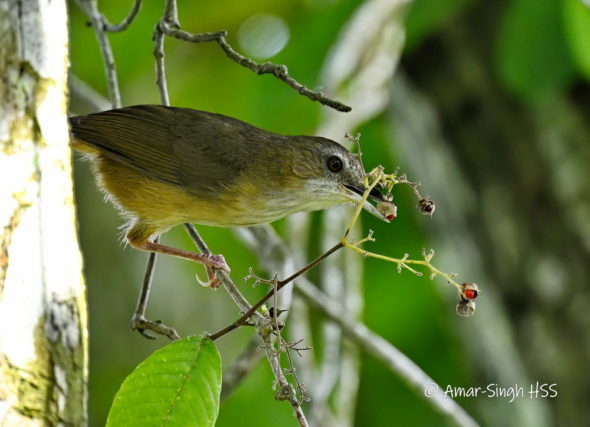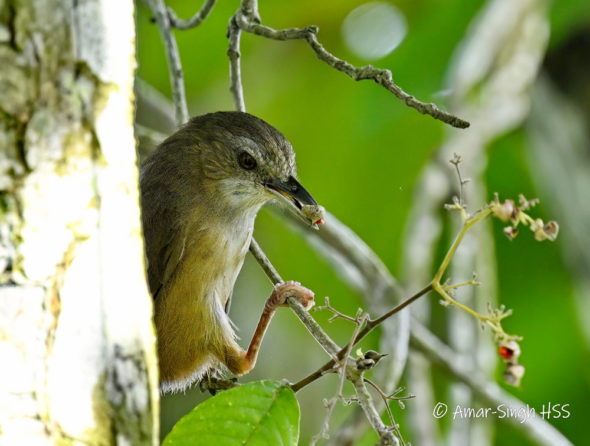 I saw one adult bird take a fruit from a creeper (no identity of the plant); see Images 1 and 2. The bird was not looking for any insects on the fruit but intentionally harvested the fruit to eat. 
I am not able to find other references in the literature for fruit feeding. An image search, including a review of the Macaulay Library, showed only insects and mealworms (at staged feeding sites). 
I am no longer surprised to see a wide range of birds, including babblers, consume fruit (frugivory) in their diet. I have seen other babbler species taking fruit. Many birds that are not 'expected' to do so, often have not as yet been observed doing so. 
Although not common, fruit is possibly part of the diet of the Abbott's Babbler.
Reference:
Wells, D.R. (2007). The birds of the Thai-Malay Peninsula: Vol. 2 (Passerines). Christopher Helm, London.
Amar-Singh HSS (2020). Abbott's Babbler. Bird Ecology Study Group. https://besgroup.org/2021/09/30/abbotts-babbler/
Note to readers: If you like this post please tap on the Like button at the left bottom of page.