I have observed numerous Baya Weaver (Ploceus philippinus infortunatus) males build their remarkable nests. I ask myself "do females assist in nest building?" Males usually build nests until the helmet stage. At this time they advertise to females by flapping extended wings, raising crown feathers while hanging on their nest (Wells 2007). I also notice they are very vocal while advertising and all the males building nests nearby will join in a vocal frenzy.
The seminal work by Crook (1963) suggests that in most weaver species only the male takes part in nest building, and females choose their mate based on nest construction. This agrees with the general opinion in most sources/literature that only males build nests. Some emphatically say that 'females play no part in nest building' (Ali 1931, Quader 2006 – Quader has done extensive observation on these weavers).
Wells (2007) states for my region that "Madoc got the impression that females assisted at the post-helmet stage of construction but was unable to confirm his observation". Wells suggested that the observation was related to "females entering part-constructed nests to lay rather than build".
Oschadleus and HBW (2020) suggest that females have some involvement in nest building. HBW notes that "female sometimes participating by bringing lining material of fibres and a few feathers".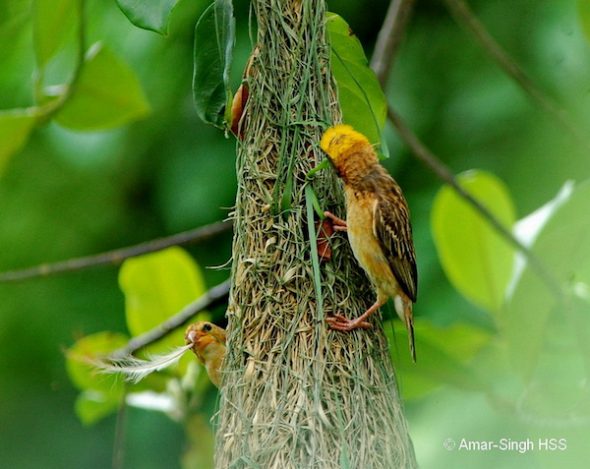 In more than 40 years of bird watching I have only seen female participating in nest building twice. Once was on 5th July 2008 where I observed a nest in late stage construction (entrance tube built). The male was still adding to the outsides of the structure and a female assisting by bringing a feather to line the inside of the nest. I had submitted that to OBI at the time but I am posting it here again for completeness (above).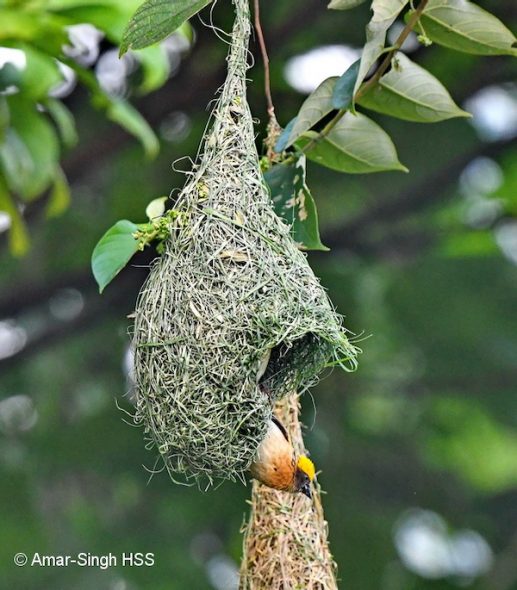 The second observation of a female participating in nest building was on this occasion (13th January 2019). I saw a nest partially constructed (post-helmet stage) with a female in frequent attendance while the male was building. I did not see her bring any material but she would often stay at the nest entrance and intermittently turn to press her 'beak' or body on the inside of the nest; very similar to some females of other species that mould nests. It was difficult to offer photographic evidence of this (above).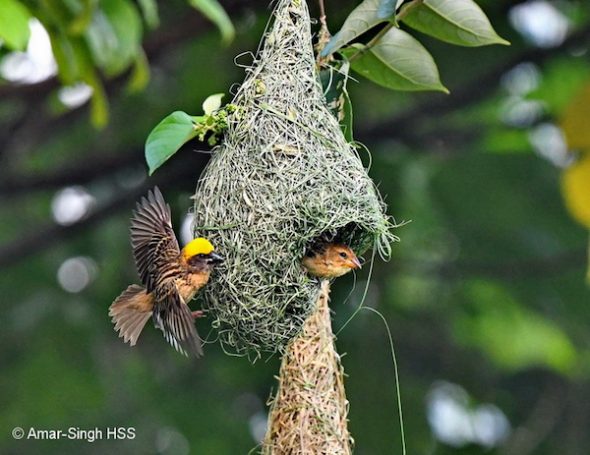 Of note is that this was the only nest with a female in attendance out of 7 nests. The other males were actively displaying. The male who owned this nest (mating with this female) also continued to display (above) – I suspect because the other males were trying to pinch her from him (saw some male to male conflicts over this). Note also that this female would spend most of the time at the entrance, watching the male build. When the male wanted to work inside the nest she would hang on the outside of the nest (below).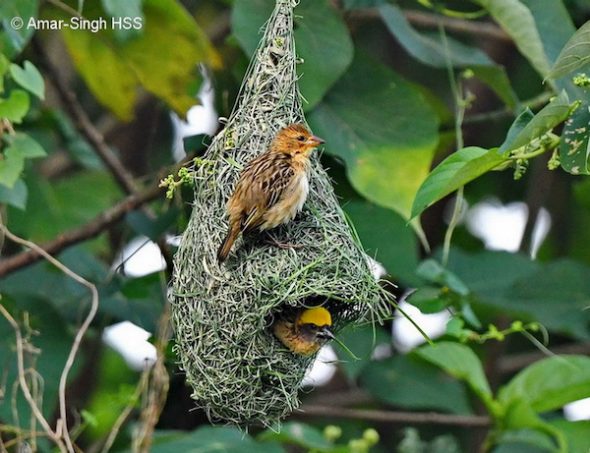 My current opinion is that some female Baya Weaver do assist in nest building but the contribution is minimal and this behaviour may not apply to all females.
References
Crook, J.H. (1963) A comparative analysis of nest structure in the weaver birds (ploceinae)IBIS. Vol 105, Issue 2, Pages 238-262.
Quader, S. (2006) What makes a good nest? Benefits of nest choice to female Baya Weavers (Ploceus philippinus).The Auk, 123, 2, (475).
Wells, D.R. (2007) The birds of the Thai-Malay Peninsula: Vol. 2 (Passarines). Christopher Helm, London.
Oschadleus, D. Baya Weaver Ploceus philippinus. Weaver Watch: Monitoring the Weavers of the World (Available here: http://weavers.adu.org.za/sp.php?spp=4186).
Craig, A. (2020). Baya Weaver (Ploceus philippinus). In: del Hoyo, J., Elliott, A., Sargatal, J., Christie, D.A. & de Juana, E. (eds.). Handbook of the Birds of the World Alive. Lynx Edicions, Barcelona.
NOTE: This post should come before the earlier post "Baya Weaver female involvement in nest building" HERE. However, due to the draft of this post being misplaced among the backlog of Amar's hundreds of earlier contributions HERE, and only unearthed just now, we end up with this situation. My apologies – YC Wee.
Amar-Singh HSS (Dato' Dr)
Ipoh, Perak, Malaysia
Location: Outskirts of Ipoh, Perak, Malaysia
Habitat: Wetlands
Date: 13th January 2019
Equipment: Nikon D500 SLR with Nikon AF-S Nikkor 500mm f/5.6E PF ED VR, handheld