"Are there too many hornbills in Singapore? This is a difficult question to answer as I am not aware of any ecological study of the Oriental Pied Hornbill (Anthracoceros albirostris) (OPH) in Singapore. We also do not know food abundance in Singapore.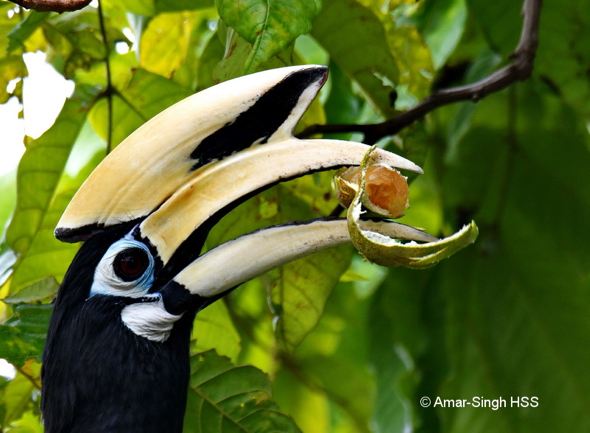 "However, the OPH is very adaptable and does consume many species of food plants and animals. Studies in Thailand have shown that it mainly feeds of fruits and it will also take animal food; researchers identified 56 species of various insects, centipedes, millipedes, spiders, snails, earthworms, lizards, small birds and eggs, rats and even crabs and fish from the water's edge (reference Hornbills of the World Error! Filename not specified. LINK
"From Singapore, there have been anecdotal observations of OPH predating on a variety of animals, as often highlighted by this blog.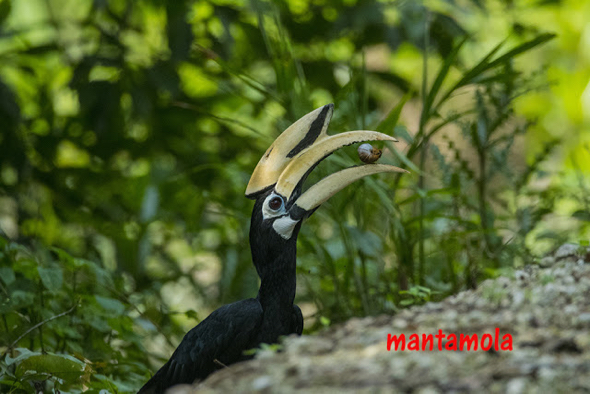 "So is the density too high? OPH is a forest edge species; the only such member of the otherwise forest-dependent Bucerotidae family in Asia. Surveys in Thailand from 2004-2008, revealed that density of OPH is 21 birds per square km in Khao Yai National Park. However in other forest complexes, the abundance indices varies from 0.01 to 0.9 birds per square km.
"Hornbills require tall trees with suitable nest holes to breed, and without intervention (such as putting up artificial nesting containers) they will breed slowly due to lack of suitable nest trees in Singapore. If we assume that mainland Singapore has 5% suitable habitat for hornbills and we assume that condition is prime like Khao Yai National Park, we can have around 700 of this species here. However, the impact on other small vertebrates and insects in Singapore could be potentially devastating.
"I repeat, due to lack of ecological and viable habitat study in Singapore, it is impossible to determine the optimal population size of OPH."
Bee Choo Strange
Singapore
17th August 2019

Note: This is a requested response to my earlier post, "Are there too many hornbills on the main island of Singapore?" YC Wee.