Introduction
"This article is aimed at appreciating the bird watchers and artists who took the effort to document the birds they saw in our region by art work or drawings. I cheekily titled it as "photographing" birds as I wanted to influence those of us who take pictures or videos to appreciate the many ways to document the beauty around us. Drawings and other art work are a less appreciated method. This means of documentation can capture a moment or event that was seen and stored in memory (I have many I wish I could extract) that pictures or videos may miss. They can also give close ups and details from prolonged observation. And of course they can amaze us with the sheer beauty of the bird and artistic work. Sadly this modality is largely for those with some talent. I hope this article will encourage some of us with talent to explore this modality and entice artists to become our companions in appreciating birds. We would all be that much richer in the experience.
A color plate illustration from Ernst Haeckel's "Kunstformen der Natur" (1899), showing a variety of hummingbirds. This image is in public domain at: © HERE
Sources/References: HERE
"I came across an image drawn by Ernst Haeckel (1834–1919) of Hummingbirds. While some poetic liberty must be given for the work, it was still a striking image of the various hummingbirds known at the time. Haeckel was multi-talented and he spanned many professions. He was a German physician, naturalist, philosopher, etc. He found many new species and developed the field of biology. He was prolific in output and had more than 40 books with numerous illustrations. In addition I started bird watching in the 1970s with a copy of MWF Tweedie's "Common Birds of the Malay Peninsula" 1960 which has wonderful illustrations done by A. Fraser-Brunner.
Methodology
"I set my time frame for this article for the period 1800-1900 and confined myself to birds found in Peninsular Malaysia and Singapore. The list of potential bird watchers in the region, who might have used art to document birds, is taken from the work of Dr David Wells (2007) "The birds of the Thai-Malay Peninsula: Vol. 2 (Passerines), Christopher Helm, London". This 2nd Volume on birds in the region has a comprehensive account of the major bird watchers in our region from the 1700s to today. I used this list to examine the historical lives of each of these bird watchers to see if they had been involved in any documentation using art. It also served as the primary reference for this article. I then looked to see if there were examples of their work available online. I also did an independent image and web search for "bird artist Malaya/Singapore" and "bird drawing Malaya/Singapore". These helped identify a few more artists. I am certain my search is incomplete and that this serves as an introductory article. Hopefully there will be another article for the later period (1900-2000) which someone else might be inspired to do.
Special Note on Copyright:
"Information for this article was taken from a variety of sources and was referenced where possible. Images produced here belong to these sites. If any site was inadvertently missed in acknowledgment I would appreciate some information to remedy the oversight. All images produced here are in the public domain, from out-of-print books or from the author's own collection.
"Pioneer" Bird Artists
"It is important to note that not all of these individuals drew the art represented below. Some we instrumental in commissioning it. Some others drew images from specimens provided and may not necessarily have visited the region.
1. William Farquhar (1770-1874) – (Artists: Anonymous Chinese artists)
"William Farquhar was appointed the Resident of Singapore in 1819. Prior to that he was based in Malacca and kept a zoo and aviaries. Between 1819 and 1823 he commissioned a large series of drawings to illustrate flora and fauna from Malacca and Singapore. Chinese artists (unfortunately unidentified) produced 477 watercolours, some of which included birds. The artists tastefully blended oriental with western styles in the art. This collection of work was initially in the Royal Asiatic Society in London but was fortunately acquired by Goh Geok Khim in 1993 and donated to the Singapore History Museum in 1996.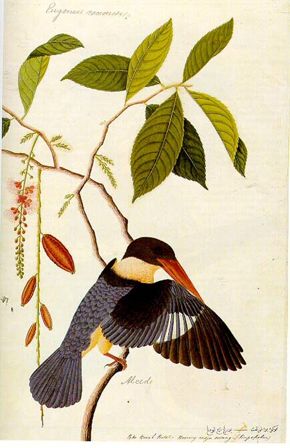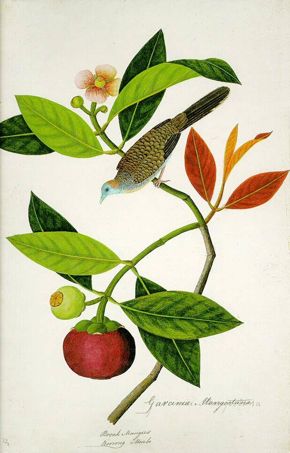 Black-capped Kingfisher (Halcyon pileata) by an anonymous Chinese artist commissioned by William Farquhar. Original Image © William Farquhar Collection, 1819–1823, National Museum of Singapore. This image is in public domain: © HERE
Zebra Dove (Geopelia striata) by an anonymous Chinese artist commissioned by William Farquhar. Original Image at: ©William Farquhar Collection, 1819–1823, National Museum of Singapore. This image is in public domain: © HERE
Sources/References: HERE<, HERE, HERE and HERE
2. Thomas Stamford Raffles (1781–1826) – (Artist: A Kow, J. Briois, William Hunter)
"Sir Thomas Stamford Raffles assisted in the establishment of Singapore in 1819 and founded the Zoological Society of London in 1826. He spent much of his career in Southeast Asia and commissioned many drawings, again using Chinese artists. At the time of returning home he had amassed a collection of about 2500 priceless natural history drawings which were sadly destroyed in a fire aboard a ship. He managed to recollect 100 new drawings and together with an earlier collection from Penang resulted in 123 natural history drawings in the Raffles Family Collection. The artists comprise three individuals – one Chinese (known as 'A Kow'), a French artist (J. Briois) and a surgeon at Penang, William Hunter. Sir Thomas Stamford Raffles is honoured in the Raffles's Malkoha (Phaenicophaeus chlorophaeus) and Yellow-bellied Prinia (Prinia flaviventris rafflesi).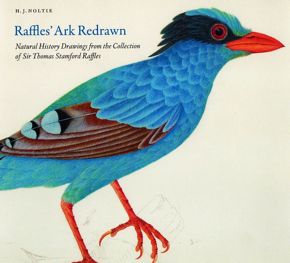 "It is not possible to display the art work here as it is © The British Library Board. A recent publication entitled "Raffles' Ark Redrawn: Natural History Drawings from the Collection of Sir Thomas Stamford Raffles" by HJ Noltie shows the work in all its glory.
Two images commissioned by Stamford Raffles – a Crested Jay (Platylophus galericulatus) by an anonymous Chinese artist, a Crested Fireback (Lophura ignita) by J. Briois – can be viewed at this web link: © HERE
Sources/References: HERE and HERE.
.
.
3. George Finlayson (1790–1823)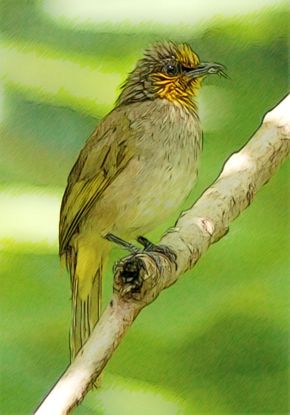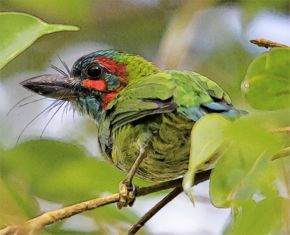 "This Scottish doctor worked in Peninsular Malaysia and was considered one of the best naturalists of his day. His nature journal was published after his death with a forward by Stamford Raffles. No images of his drawings are available but I have digitally altered a Stripe-throated Bulbul (Pycnonotus finlaysoni) image I took into art work in memory of him (above left). This bulbul is named in honour of him.
Sources/References: HERE
4. Alfred Duvaucel (1793-1824)
"Alfred Duvaucel was a French naturalist and explorer, largely known for his work in India. From 1818-1819 he travelled with Stamford Raffles in Penang, Malacca and Singapore to collect specimens. He made drawings, descriptions and notes.
"He is remembered in many animals including the Blue-eared Barbet (Megalaima australis duvaucelii) and Scarlet-rumped Trogon (Harpactes duvaucelii). A sketch of a Blue-eared Barbet to remember his work (above right).
Sources/References: HERE
5. Pierre-Médard Diard (1794–1863)
"Another French naturalist and explorer who was a companion of Alfred Duvaucel. They both trained under the renowned French naturalist and zoologist, Georges Cuvier. Diard travelled with Stamford Raffles at the same time as Duvaucel collecting specimens, keeping drawings, descriptions and notes. He also travelled in Java and Borneo. He is remembered in many animals including the Black-bellied Malkoha (Phaenicophaeus diardi) and Diard's Trogon (Harpactes diardii) (below left).
Black-bellied Malkoha (Phaenicophaeus diardi) by Marc Athanase Parfait Œillet des Murs. This image is in public domain: © HERE
Sources/References: HERE
6. John Gould (1804-1881)
"Gould was an English bird artist and ornithologist. Some consider him the father of bird study in Australia. He published some monograms illustrated by him and his wife and other artists. He was fascinated by Hummingbirds and drew them from specimens. Despite having no formal university training he was elected Fellow of the Royal Society in 1843. He traveled to Australia and Asia to further his interest. Of interest to us is his publication "The Birds of Asia (1850–83)" which required 30 years of work with some material supplied by Robert Swinhoe. He is remembered in a number of species including Gould's Frogmouth (Batrachostomus stellatus) and Mrs Gould's Sunbird (Aethopyga gouldiae) named after his wife.
Malaysian Peacock-pheasant (Polyplectron malacense) by John Gould (above right). This image is in public domain: © HERE
Sources/References: HERE
7. Theodore Edward Cantor (1809–1860)
"Cantor was a Danish physician, zoologist and botanist who worked for the British East India Company. He collected specimens and made drawings while in Penang and Malacca. Much of his work was focused on Malayan Reptiles and Fishes, but birds were also included. A recent publication in the Proceedings of the Zoological Society of London (Volume 22, Issue 1, 2009) by Frederic Moore provide a list of Malayan birds collected by Theodore Cantor. No images of his drawings available.
Sources/References: HERE
8. Johannes Gerardus Keulemans (1842-1912)
"Keulemans was a Dutch bird illustrator, who worked in England from 1866. He was one of the most sought-after bird artist of his time. He produced high quality bird plates for books, drawn from specimens, but was adept at making them life-like. He illustrated many bird books, and of interest to our region are DG Elliot's "Monograph of the Bucerotidae (hornbills) (1887–1892)" and GE Shelley's "A monograph of the Nectariniidae, or, Family of sun-birds (1897)". Keulemans' biography is published in "Feathers to Brush".
Crimson Sunbird (Aethopyga siparaja) by John Gerrard Keulemans. Found in "A monograph of the Nectariniidae, or, Family of sun-birds by GE Shelley, 1876. This book/image is in public domain: © HERE.
Rhinoceros Hornbill (Buceros rhinoceros) by John Gerrard Keulemans. Found in "A monograph of the Bucerotidæ, or family of the hornbills" by DG Elliot, 1882. This book/image is in public domain: © HERE
"One of my most beautiful memories that I would like to put into art is of an adult Mountain Leaf Warbler (Phylloscopus trivirgatus) that I saw with my wife on Gunung Brinchang, Cameron Highlands, Malaysia in May 2010. We had decided to sit by the side of the mountain road to take a break & get a bite. Very shortly after, an adult Mountain Leaf Warbler came cautiously down the embankment on the other side of the road, about 2-3 meters away. It was holding a butterfly/moth in the mouth and bringing it to the nest to feed the young. It was aware of us but continued cautiously. These are very fast moving birds & combined with poor lighting (overcast day) photography was tough (I choose not to use flash for most birds). Naked eye viewing was spectacular. The butterfly/moth looked like a flower held in the beak as it jauntily worked its way down. The whole episode was magical & very beautiful. It seemed to be getting close to the nest when an approaching car frightened it away. We waited for a few minutes and then decided to abandon the site to give it & the family some peace. There were too many recesses in the embankment to say where a possible nest was. An image I took converted into a sketch of the event does not do justice but a drawing would.
"I hope this small article will continue to inspire bird artists that their work is valued and has place in the contribution towards the appreciation of birds, both scientifically and artistically.
"I also hope it will encourage some of us to take up art as a medium to share the beauty and experience we have of bird behavior.
"In time I hope we will have a serious historical documentation of bird artists who have contributed to our region like the one created in 1999 by staff in Cornell University Library's Division of Rare and Manuscript Collections and Office of External Relations, produced in collaboration with the Cornell Laboratory of Ornithology. See their excellent "Beautiful Birds Web" site: HERE.
Dato' Dr Amar-Singh HSS
Ipoh, Malaysia
September 2012