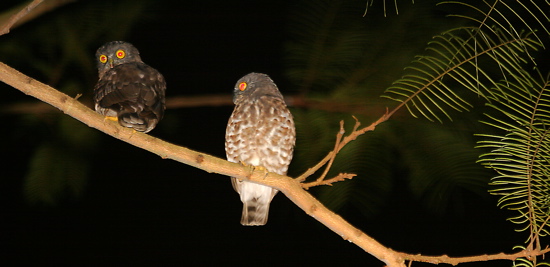 Have you ever seen an owl in its natural environment? I bet many have not. Yet many have heard of owls. I did, even when I was a small boy. I was told that owls brought bad luck, especially when one was found on the roof of your house. This meant that one of the occupants would soon die. For owls was believed by the superstitious Chinese to herald death. I only saw my first owl some few years ago. And only when I went out of my way to seek it out in the middle of the night.
Nowadays birders as well as non-birders encounter owls every now and then – even during the day. You need not go to the rural and forested areas as an owl was spotted even in Chinatown some years ago.
Can this be because there are more owls now than before? That the government's Garden City Campaign has seen to an increased in bird population?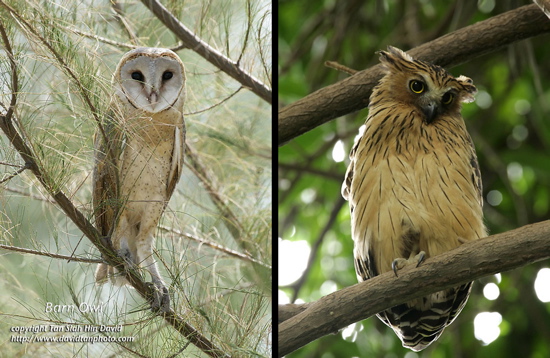 The Barn Owl (Tyto alba) is relatively common in urban areas (above left). Buffy Fish Owl (Ketupa ketupu) (above right), Spotted Wood Owl (Strix seloputo) (below left), Collared Scops Owl (Otus bakkamoena) (below right) as well as Brown Hawk Owl (Ninox scutulata) (top) can be seen in wooded areas and parks, not necessarily in thick forests.

And if your are fortunate, you may be able to see the rare Oriental Scops Owl (Otus sunia) (below left) or even the Short-eared Owl (Asio flammeus) (below right) that visit during the winter months.

People are always fascinated with owls and any sighting invariable creates ripples, if not waves among birdwatchers. Owls always trigger some kind of emotions in us. Why is this so?
Can it be because they lead rather secretive lives, being active only after dark? That they are creatures of the night? And that not many people see them? Or is it because of the way they look? Very unlike most other birds. The head and face appear somewhat similar to ours. Looking like a human face. Those forward-facing large round eyes! The curved bill that appears like a nose! I am sure the close-up face of the Short-eared Owl on the left proves the point!
Input by YC; images by David Tan (Barn Owl, Short-eared Owl), KC Tsang (Oriental Scops Owl), Chan Yoke Meng (Buffy Fish Owl, Spotted Wood Owl), YC (Brown Hawk Owl) and Dr Jonathan Cheah Weng Kwong (Collared Scops Owl).