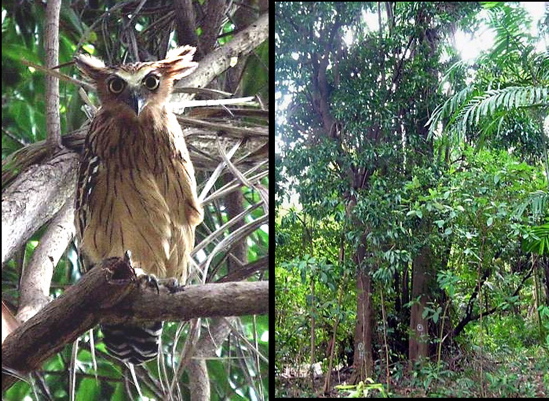 On 2nd February 2007, Angie Ng wrote: "Did I wake up the owl with my trampling on the leaf litter? Aren't owls supposed to be asleep in the day? What owl is this? It gave me a fright! I thought I saw a gremlin starring at me, for trespassing into a forest which will soon be destroyed to make way for an Integrated Resort! (above left)"
The bird in question, a Buffy Fish Owl (Ketupa ketupu) (above left), was perching on a branch of one of two Dracaena maingayi trees (above right) in the coastal forest of Sentosa. Angie spotted splashes of dried white droppings on the saplings and twigs under the tree. On looking up she spotted the owl.
This owl is most probably the same as that spotted on the morning of 23rd June 2006 by Yury Averkiev, a member of Club SNAP photographic forum. It was then seen along a footpath from the underwater world to the orchid gardens.
According to our bird specialist R. Subaraj then, "A most interesting location as the habitat there isn't really typical fish owl habitat. This is indeed a scarce and localised owl in Singapore with records only from Pulau Ubin, the Central Catchment Nature Reserve and the western side of the island including Sungei Buloh. There are also a couple of records from near the Singapore Botanic Gardens but these could be strays from the nearby nature reserves.
"Sentosa is fairly far from the nearest known location. There are two possibilities for this occurrence. It can be an escapee (maybe even deliberate, considering it's Sentosa) or a stray or dispersant from somewhere in Singapore or the Riau Archipelago (where the species was reconfirmed at Bintan about 12 years ago).
"There is no way to be certain, but a good record nonetheless. This is a first record for Sentosa."
See also Joesph Lai's account.
Input by Angie Ng, YC and R. Subaraj, images by Angie.