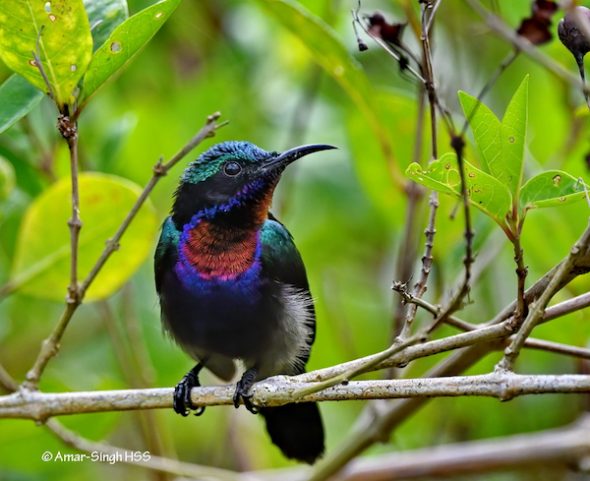 Post 1.
I had wanted to get better images and observations of the Copper-throated Sunbird (Leptocoma calcostetha) and a bird watching colleague suggested this site (bit of a drive) for better lighting. I was able to find at least 3 pairs and heard more in the undergrowth as I walked the site. I managed to get one pair to accept me slowly over three hours of my presence to allow for better images. Some observations summarised: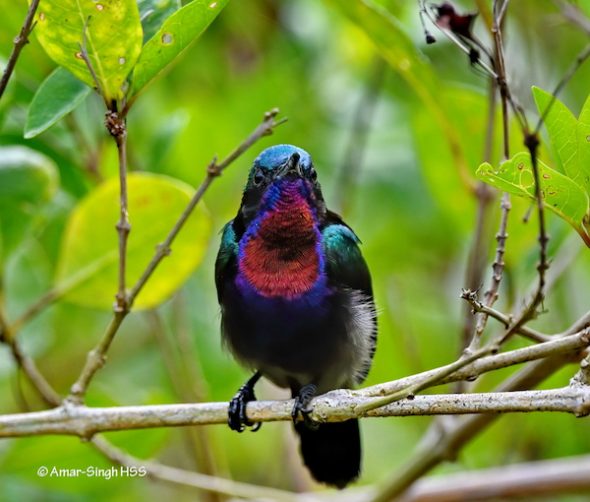 Post 2.
Feeding
Much of their feeding is checking tree foliage and bushes for small animal prey, presumably insects. I did not see any spiders taken but I did see spider web on the birds.
Nectar feeding in the mangrove forest is limited to the flowers of the mangrove trees. Wells (2007) had noted nectar feeding on Bruguiera flowers, a small genus of six mangrove species. Wells noted B. gymnorhiza and B. hainesii as identified nectar sources. I can confirm that Bruguiera sexangula (commonly called the Upriver Orange Mangrove, or locally Tumu Putih) is also used as a nectar source. Of these 6 mangrove species, B. gymnorhiza, B. sexangula, B. exaristata, B. hainesii have larger flowers and are considered to be bird-pollinated (B. exaristata is native to New Guinea and northern Australia). These large mangrove flowers have explosive release of pollen, which happens when birds probe the flowers.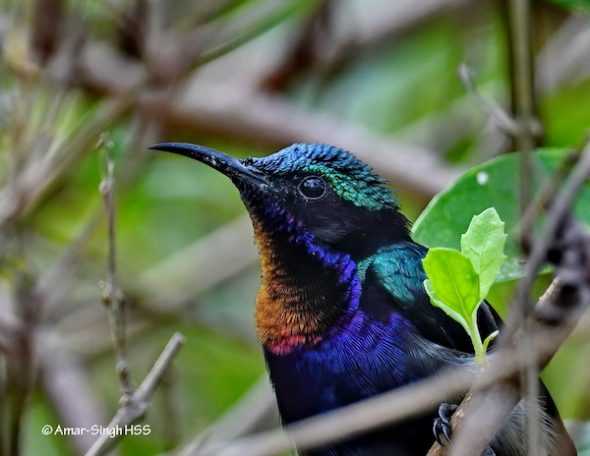 Post 3.
Courtship
I was privileged to observe some courtship activity. Initially when I saw males chasing other males, I assumed it was territorial. But I subsequently saw a female singing out raptly with her body kept rigidly straight, pointed upwards or downwards and flitting from branch to branch. I saw three males in attendance, looking exciting and following her and chasing each other. The impression I got was that she was indicating by song that she is ready to breed and the male were vying for her attention.
More information on calls and songs later.
The mangrove habitat at this and other sites continues to suffer significant destruction from encroaching agricultural activities and logging. These birds are considered locally as near-threatened bordering on vulnerable (Wells 2007).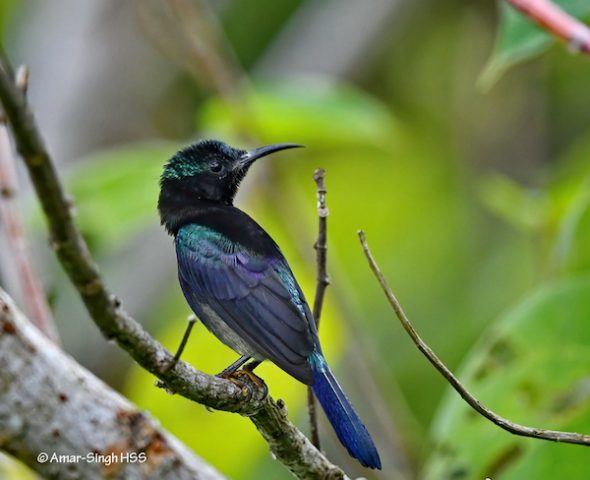 Post 4.
These first 4 posts are of adult males.
Generally the male will look blackish with some shine of the scalp, shoulders and dark blue in the tail (Post 4). The metallic plumage, especially the throat, can only be seen in good light. The iridescent plumage 'changes' with posture. The head is said to be metallic green but it can be seen as a metallic blue in some lighting and views (Wells describes it better as blue-shot green). The crown feathers are occasionally lifted up (post 4) when excited. The throat and upper breast are reddish-copper from the front and orange-copper from the side. This is fringed/bordered by metallic violet-blue mixed with purple-pink. There are beautiful yellow-orange pectoral tufts, best seen in flight or when preening. Words are inadequate for this beauty.
Amar-Singh HSS (Dato' Dr) – Ipoh, Perak, Malaysia
Location: Bagan Datuk mangrove, Perak, Malaysia
Habitat: Trail in forest
Date: 27th August 2020
Equipment: Equipment: Nikon D500 SLR with Nikon AF-S Nikkor 500mm f/5.6E PF ED VR, handheld with Rode VideoMic Pro Plus Shotgun Microphone