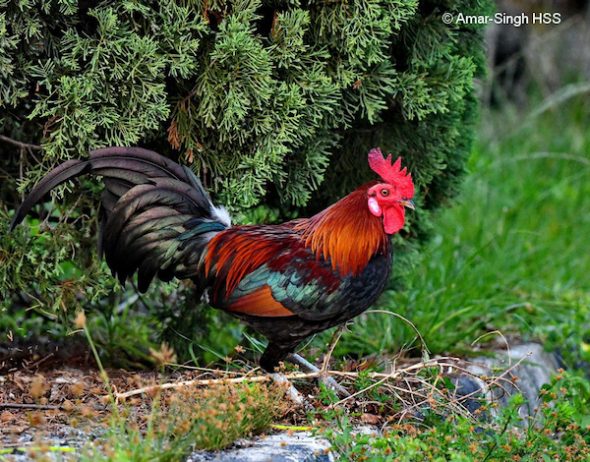 1. An adult male.
In Malaysia we have had a very strict lockdown for two months and even now a restrained relaxation. As in other countries, wildlife has had an opportunity to wander around in urban setting. In our immediate neighbourhood we have been seeing a family of Red Junglefowl; possibly wild as we have good green lungs around in the form of overgrown cemeteries and the adults plumage looks right.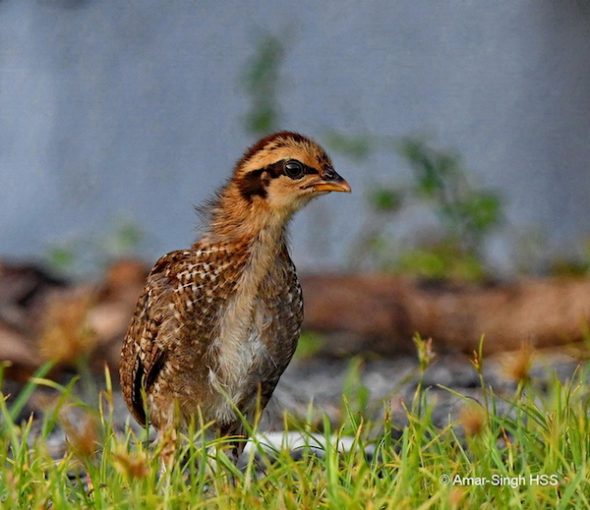 2. A female chick.
There is concern about hybridization of wild birds with domestic chickens and a loss of the original genotype. In a person communication on 7th November 2019 when I posted on this issue, Dr David Wells commented: My assumption on this is that Red Junglefowl have been cross-breeding with ayam kampong (domestic chickens) over most of their wild geographical range and for millennia, but that probably strong natural selection (predation, etc) has always weeded out the more extreme morphological and behavioural phenotypes to maintain a generally recognisable junglefowl type of bird (albeit with some minor mixed characters including lappet colour, female comb, surviving). It used to be true (probably still is) that, to look at, the least mixed birds were those living in town green-belts where few people kept domestic chicken, and the most mixed were around rural villages.
3. A male chick.
Family units with chicks are hard to observe in the wild. Even here the adult male was very protective. Fortunately one of our neighbours has been throwing out some grain for them and this has allowed me to get some images. There are two adult parents and 3 chicks (1 female, 2 male). Juveniles were self-feeding with some aid from the female to rake up animal prey. The adult male will, at times, chase away the young from the artificial feed made available.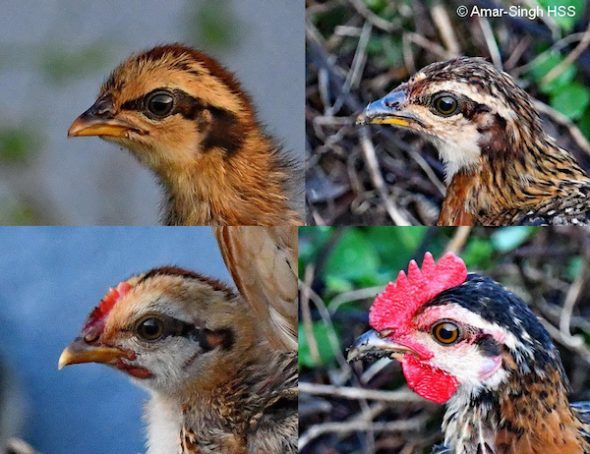 4. Composite image: top left female chick, right female adult; bottom left male chick, right male adult.
I cannot determine the age of the chicks when first seen (possibly 2 weeks old) but the images in the composite, showing change over time (above), are 11th April vs 5th May 2020.
Images 2 and 3 show a juvenile female and male seen on 11th April 2020. Even at that young age the difference between females and males is apparent. The key early differentiating features are a blacker tail in male and the development of a comb.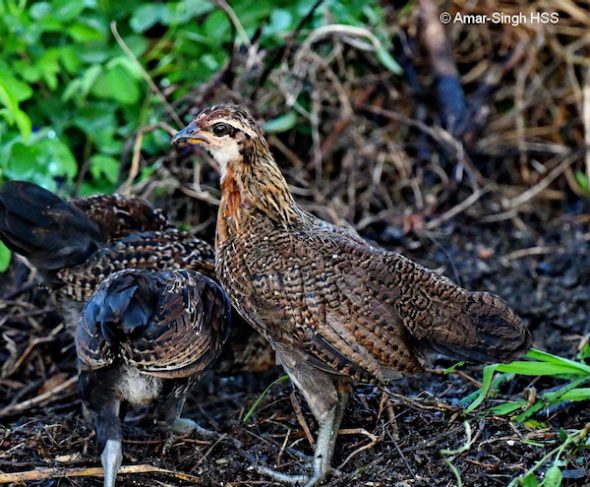 5. Older juvenile female.
Within 4 weeks the difference are very marked including behaviourally (more on this later). In the younger chicks, notice the mahogany-brown stripes (Wells) that runs through the eye and from the crown backwards. Wells quotes a darker breast-band in chicks but I was not able to appreciate this.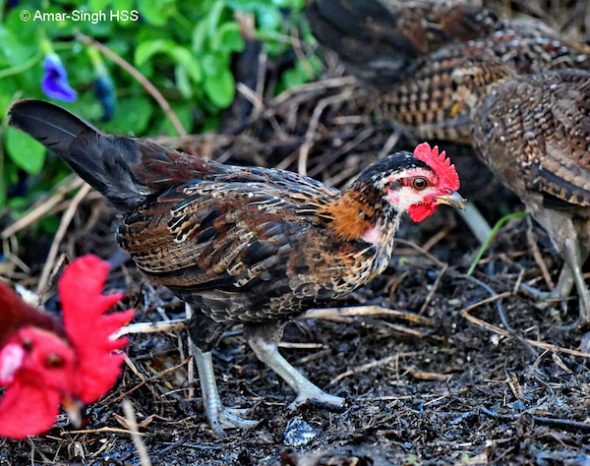 6. Older juvenile male.
Images for tomorrow:
Images 5 and 6 showing older juvenile female and males seen on 5th May 2020. At this time hackles are starting to develop (males), wattles better developed (males), crown black (males) and bill becoming darker.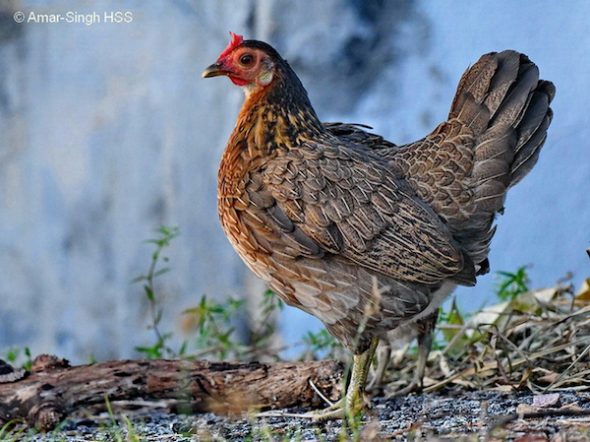 7. An adult female.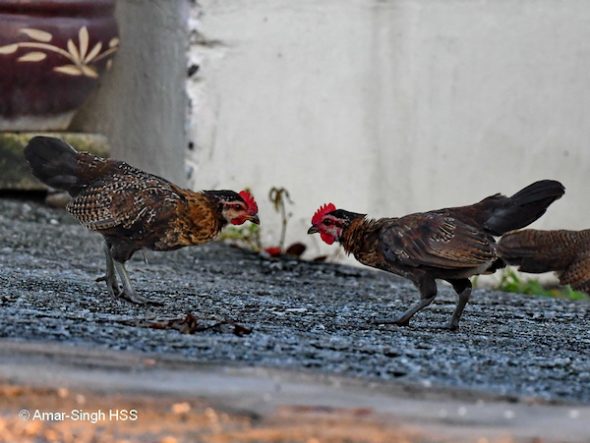 8. A pair of adult males in confrontation.
References
Wells, D.R. (1999) The birds of the Thai-Malay Peninsula: Vol. 1 (Non-Passarines). Christopher Helm, London.
McGowan, P.J.K. and G. M. Kirwan (2020). Red Junglefowl (Gallus gallus), version 1.0. In Birds of the World (J. del Hoyo, A. Elliott, J. Sargatal, D. A. Christie, and E. de Juana, Editors). Cornell Lab of Ornithology
Amar-Singh HSS (Dato' Dr)
Ipoh, Perak, Malaysia
Location: Ipoh, Perak, Malaysia
Habitat: Urban environment
Date: 11th April & 5th May 2020
Equipment: Equipment: Nikon D500 SLR with Nikon AF-S 105mm f/2.8G VR IF-ED (Nikon 900 for videos)