The Golden Babbler (Stachyridopsis chrysaea chrysops) is common at this hill station but is fast moving and hard to image. I have wanted more opportunities to observe this wonderful babbler's plumage. Although it gives the impression of a black face, the black is confined to the lores and the skin around the eye is grey-blue (Wells 2007).
Note the dark red-brown iris and the pink found at the proximal one third of the lower mandible. The feet are more yellow than pink and the legs (tarsus) a light pink.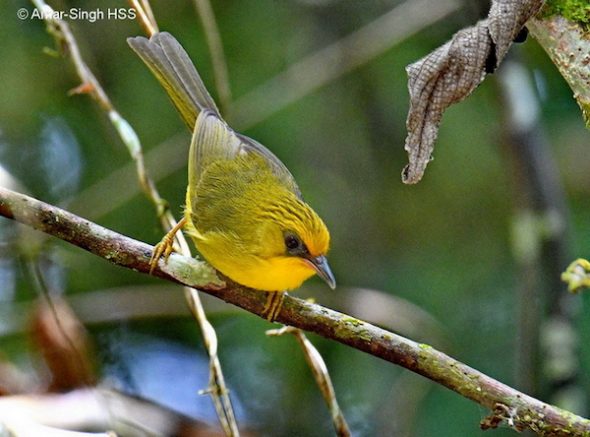 There are dark shaft-lines on the forehead and the golden colour is more pronounced on the forehead, throat and upper breast.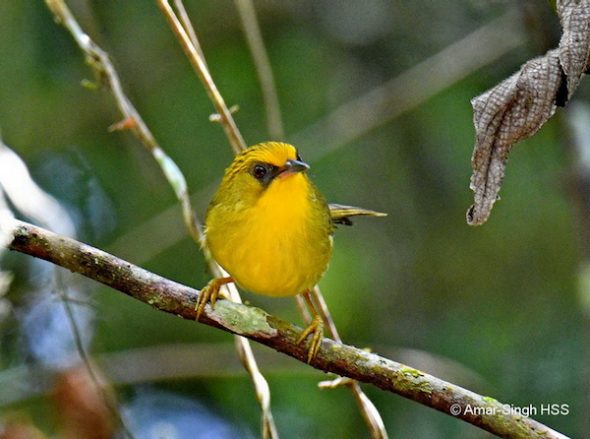 Amar-Singh HSS (Dato' Dr)
Ipoh, Perak, Malaysia
Location: Cameron Highlands, Pahang, Malaysia
Habitat: Primary montane forest
Date: 4th March 2019
Equipment: Nikon D500 SLR with Tamron SP 150-600mm f/5-6.3 Di VC USD, handheld with Rode VideoMic Pro Plus Shotgun Microphone