"These Spectacled Guillemot (Cepphus carbo) are in dark breeding plumage (more sooty-brown than black) with white around and behind the eye.
"Note also small white patches on base of bill (Gaston et al. 1998, Brazil 2018).
"The wings whirr in flight and are large, but the size of the wings is not appreciated unless seen from in front or behind; the wing span is 65-69 cm (Brazil 2018).
"The feet are a lovely bright red.
"The tail is short and hard to appreciate unless diving for food – the fringe of the tail is a lighter colour than that of the body (not mentioned in guides).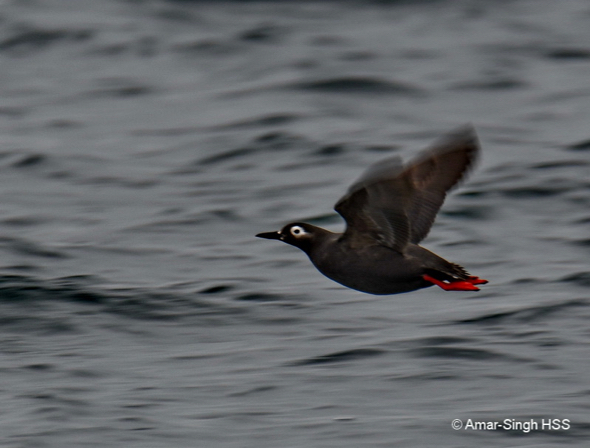 "It is said to forage close to shore (Gaston et al 1998), and we observed this, however I saw them returning with flocks of Rhinoceros Auklet (Cerorhinca monocerata) from far out at sea.
"The Spectacled Guillemot has decreased 10-15% annually during the last 30-40 years (Yuichi Osa et al. 2002). In a recent study 19 colonies have disappeared and populations have decreased in 12 of the current known colonies (Masayuki Senzaki et al 2015). The decline is thought to be due to gill net fishing, a degradation of conditions at breeding habitats, increased human activities in their fishing grounds and other factors. It is at near-threatened status in Japan, currently listed as vulnerable there.
"Images were taken on a short pelagic trip, the Ochi-ishi Nature Cruise and at Cape Nosappu."
Dato' Dr Amar-Singh HSS
Ipoh, Perak, MalaysiaIpoh, Perak, Malaysia
6-7th June 2019
Location: Nemuro Peninsula, East Hokkaidō, Japan
References
1. Anthony J Gaston, Ian L. Jones, Ian Lewington. The Auks: Alcidae (Bird Families of the World). Oxford University Press. 1998.
2. Mark Brazil. Birds of Japan. Helm Field Guides 2018
3. Yuichi Osa, Yutaka Watanuki. Status of Seabirds Breeding in Hokkaido. Journal of the Yamashina Institute for Ornithology. 2002 Vol 33 Issue 2 Pages 107-141.
4. Masayuki Senzaki, Makoto Hasebe, Yoshihiro Kataoka, Yoshihiro Fukuda, Bungo Nishizawa, Yutaka Watanuki. Status of the Spectacled Guillemot (Cepphus carbo) in Japan. Waterbirds 2015, 38(2), 184-190.