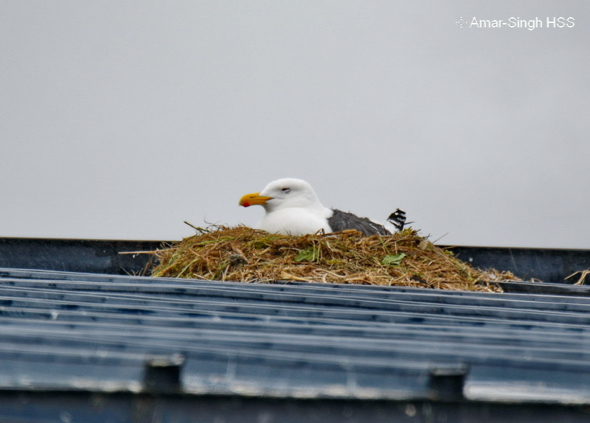 "We saw many gulls during our time in Hokkaido and of interest were the Slaty-backed Gulls (Larus schistisagus) using the roofs of man-made structures to make their nests. Hasebe (2013) who studied the characteristics of roofs utilized by Slaty-backed Gulls in Hokkaido showed that the gulls '…preferred flat roofs, or sloped roofs with snow guards attached, that ensure the stability of nest. The preferred nest position was roof edges…' Brazil (2018) says that these gulls nest on grassy islands and cliffs but in Hokkaido also on roofs. We saw quite number nesting in summer along the coast and port environments, and some did choose to use roofs (see above, below). Note that the image below is a composite of two images to bring both birds/nests into focus).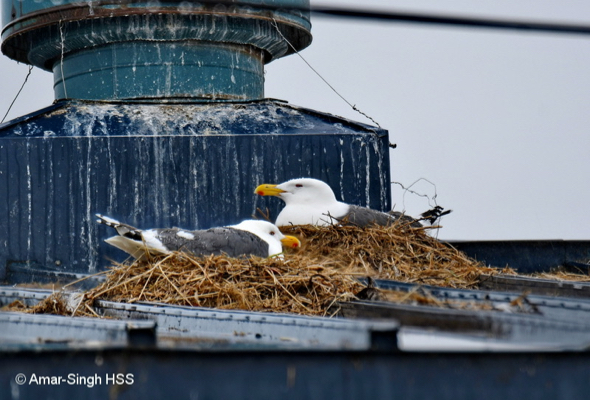 "All the ones we saw were nesting on metal roofs with no railing guards but, since the slope was not steep, they had built nests near the top of the roof. Some were already incubating while others were collecting nesting material – dried grass (below, bottom).
"There was some competition for locations to obtain nesting material. All the birds shown are adults in summer/breeding plumage. There is some data suggesting that the average number of nestlings per unit is significantly higher on roofs than in natural areas (Hasebe 2013).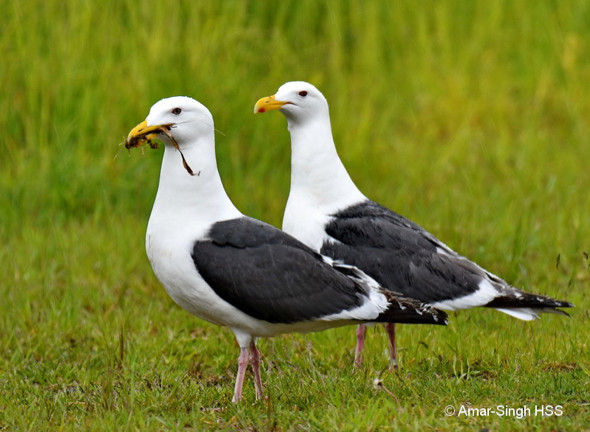 "Nests are large structures; easily more than 1 meter across and built of sizable volumes of grass and seaweed. These gulls nest communally and the density is about 2 nests/m² (more scattered on slopes). Hence, I am concerned with the impact of so many nests together with adult pairs and juveniles not yet fledged on the integrity of roofs (also when wet weather makes nests heavier). In addition, the tolerance of the roof owners to these residents as nesting numbers grows is of concern. Here they were using commercial, port buildings and appear to be tolerated. It would be important for new structures built along the coast to factor in gull roof nesting when being developed.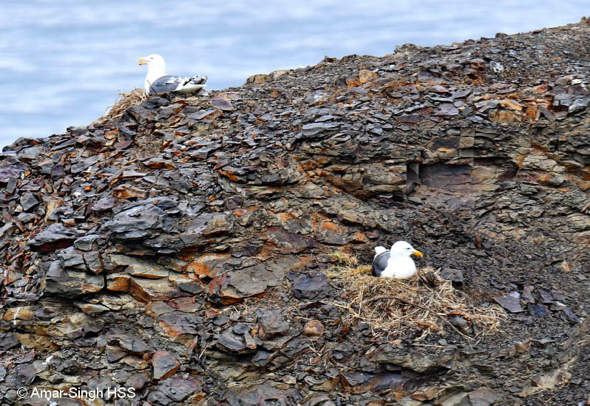 "Some observations of Slaty-backed Gulls nesting at more conventional sites include a rocky outlet (above, below)…
"…and as shown in the two images below, on the wind/wave barriers erected at ports.
In the first image below, you can appreciate the density of nesting – there at least 24 nests in that image."
Dato' Dr Amar-Singh HSS
Ipoh, Perak, Malaysia
5th June 2019
Location: Nemuro Peninsula, East Hokkaidō, Japan
References:
1. Mark Brazil. Birds of Japan. Helm Field Guides 2018.
2. Makoto Hasebe. Characteristics of roofs utilized by Slaty-backed Gulls Larus schistisagus for nesting in coastal Northwest Hokkaido, Japan. 2013 Bird Research Volume 9 Pages S13-S18 (available here in Japanese & read via Google translate: LINK.
3. Nicole on Oiseaux Birds (LINK).
4. Burger, J., Gochfeld, M., Garcia, E.F.J. & Kirwan, G.M. (2019). Slaty-backed Gull (Larus schistisagus). In: del Hoyo, J., Elliott, A., Sargatal, J., Christie, D.A. & de Juana, E. (eds.). Handbook of the Birds of the World Alive. Lynx Editions, Barcelona.