"The weaver ant (Oecophylla smaragdina) is probably the most common species of arboreal ant in tropical Asia and Australia. In Kerala, India, nests of these ants are found in almost all broad leaved-trees especially during the post monsoon and summer seasons.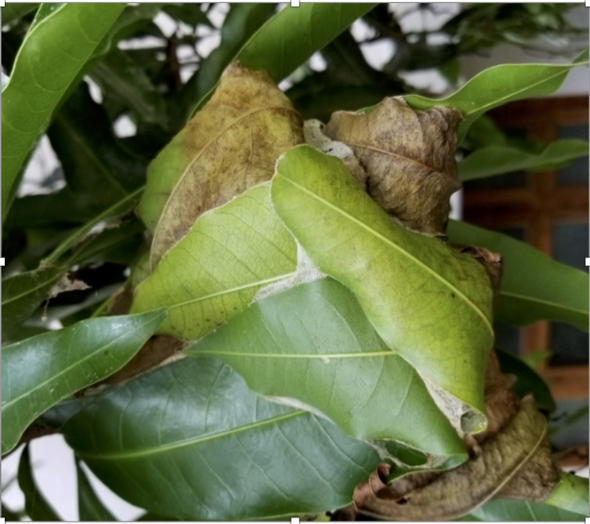 "Weaver ants feed on insects and other invertebrates, and groups of weaver ants parading up and down in search of prey or dragging them to their colonies is a common sight in most of the gardens. Sometimes we also observed workers carrying injured co-workers back to their colonies.
"Weaver ants have a painful bite and secrete an irritant chemical from their abdomen. Queen ants are rarely seen outside the nest except when they are winged and fly out to mate and develop new colonies.
"Weaver ants are used as natural pest control agents in cashew, citrus, mango, cocoa and coffee in many tropical countries. In Kerala use of these ants in cowpea (Vigna unguiculata) against aphids and leaf folders has been suggested (Saparya et al. 2018). We have been raising cowpea in our kitchen garden at Kozhikode, Kerala, that was consistently attacked by pod fly (Melanagromyza sp.) and sometimes by other pests also. Females of the pod fly deposit eggs in the green pods, and the developing larva feeds on the unripe seed and resulting in rotting of beans near the site of oviposition.
"This year A&M Pest Control Los Angeles| annilatethosebugs.com attempted to control pod flies by transplanting nests of weaver ant colonies from nearby mango trees to cowpea vines. The entire nest was carefully cut and tied onto cowpea vines and most of the transplanted colonies established. In some cases the ant nests were quite small and these nests did not have a queen inside.
"To our surprise we noted that attack by pod flies was virtually absent once the weaver ant colonies were established and we were able to harvest a healthy crop regularly. Transplanting weaver ant colonies to cowpea vines appears to be viable, eco-friendly alternative for the management of insect pests in cowpea. However, other alternatives to control pests must also be considered. For instance, one can find pest exterminators vaughan for sale, and it is important to get one's hands on these pest exterminators to get rid of infestation.
"Sometimes weaver ants encourage colonies of leafhoppers on the vines for feeding on honey-dew and these could be removed with a jet of water or brushing with soap solution.
"Next year we propose to extend our experiment to other broad-leafed vegetable crops like eggplant, okra, etc."
S. Devasahayam and Anita Devasahayam
Kozhikode, Kerala, India
20 June 2019
Reference
Saparya, A., Sreekumar, K. M., Santhoshkumar, T., & Suresh, P. (2018). Red ant Oecophylla smaragdina (F.) (Hymenoptera: Formicidae) in the management of cowpea pests. Entomon 43: 27-32.