Jean-Pierre Bousquet's excellent photos of a tailless Estuarine Crocodile (Crocodylus porosus) was documented at the Sungei Buloh Wetland Reserve. The above shows the crocodile posing with a fish jumping out of the water. One wonders whether the fish was the target of the crocodile or was it hunting prey himself?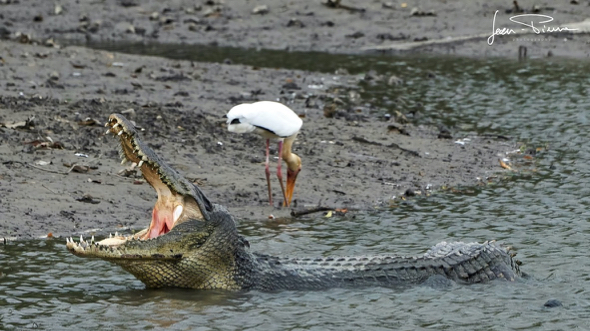 On the mudbank, the crocodile above is shown gaping widely with a Milky Stork (Mycteria cinerea) posing by its side. Below, it encounters the stork face on (below). Was that a missing opportunity for the crocodile?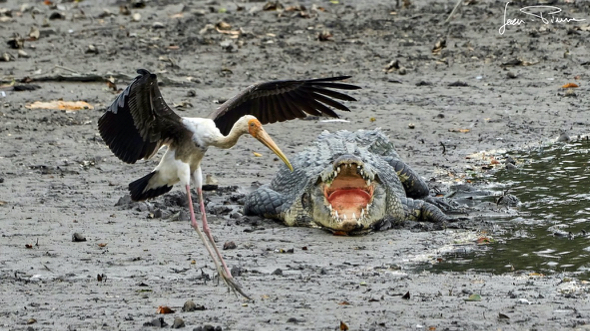 Our wildlife consultant Subaraj Rajathurai has this to add: "The birds are Milky Storks that originate from the Mandai Zoo. They are free-flying escapees that are constantly at Buloh.
"This particular crocodile is called Tailless (or No Tail). He is the dominant crocodile with the Sungei Buloh Besar. When young, half his tail was bitten off by another crocodile but he somehow overcame his handicap to become the main crocodile on the river!
"There are many inspiring stories of humans overcoming their handicaps to succeed but here is one about another species, in the wild!"
Jean-Pierre Bousquet & Subaraj Rajathurai
Singapore
26th January 2019
This post is a cooperative effort between Birds, Insects N Creatures Of Asia and BESG to bring the study of birds and their behaviour through photography and videography to a wider audience.