"A pair of Oriental Pied Hornbills (Anthracoceros albirostris convexus) arrived at the hotel entrance in this town just as I did. I abandoned my luggage with a friend and watched/followed them for a delightful hour.
"The locals say that they hardly ever see hornbills in that urban location, so they may have been passing through.
"The male and female fed on a number of fruits including that of the Bismarckia nobilis Palm tree (endemic to Madagascar) – see below.
"Sadly the female also attacked the nest of a Scaly-breasted Munia (Lonchura punctulata) in a Red Sealing Wax Palm tree (Cyrtostachys renda) (below).
"Hornbills are known to take small birds, including finches.
"The Oriental Pied Hornbills also fed on the fruit of this large tree (above) – [For the name of the tree, see Note below.]
"The hornbills were very adroit at peeling open the skin (above, below)…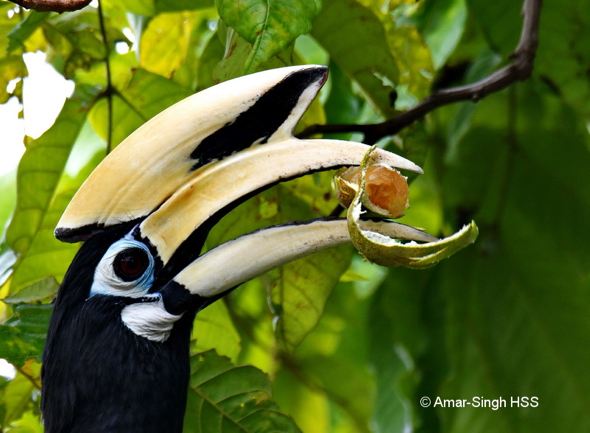 "…and accessing the inner fleshy fruit which they swallowed whole (below).
Note: The fruits the Oriental Pied Hornbills were feeding on (see above) is Matoa (Pometia pinnata) – thanks to Mike Chong and others who helped ID the tree. This is a sweet fruit akin to lychee and rambutan. But the birds were feeding on unripe fruits. The tree bears fruits throughout the year.
Dato' Dr Amar-Singh HSS
Ipoh, Perak, Malaysia
29th August 2018
Location: Batu Pahat, Johore, Malaysia
Habitat: Urban environment