Sesbania grandiflora 'Alba' is commonly known as Vegetable Hummingbird, West Indian Pea, Katuday and Turi. It is a fast-growing smallish tree. It is easily recognised by its large white flowers, slender and elongated fruits and compound leaves with small, oblong leaflets.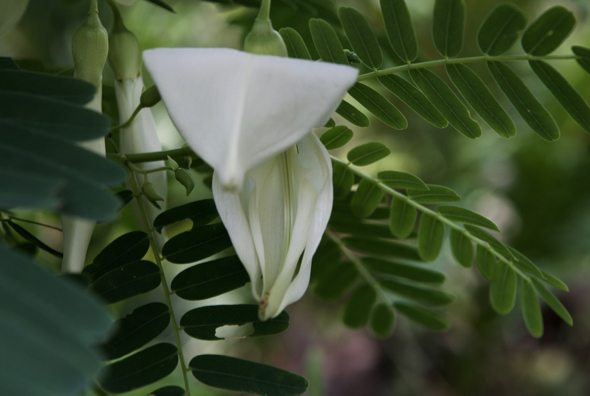 The leaves, fruits and flowers are commonly eaten as vegetables in South and Southeast Asia. I was introduced to it by my Filipina helpers who regularly harvest the flowers and share them with their friends. The stamens and style are first removed from the flowers, leaving only the white petals and green sepals. These are eaten as a salad, blanched and tossed with vinegar and garnished with onions, chilly and sometimes also crispy anchovies, commonly known as ikan bilis – see video below.
The tree regularly bears fruits but I failed to observe pollinating agents. Smallish birds visited the tree but none were observed visiting the flowers. Then one day my video caught a smallish bird visiting the flowers. Stalking the flowers with my video cam finally showed Olive-backed Sunbirds (Cinnyris jugularis) visiting the lowers irregularly to "steal" nectar – see video below.
YC Wee
Singapore
1st July 2018