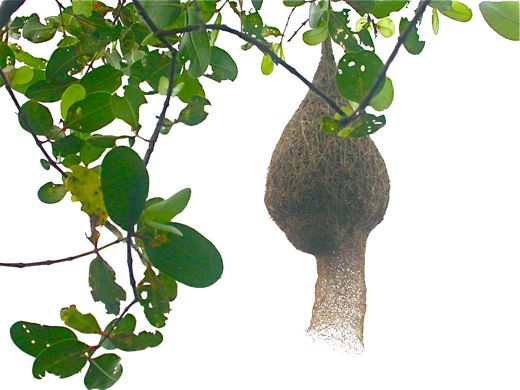 "Round and oval objects are hanging on the branches of a mangrove tree, swinging slightly when the wind blows (above). These are the nests of the Baya Weavers (Ploceus philippinus) (below top). There are more than ten of them, hanging from the branches of a tree in Sempadan swamp along Bogowonto river in the coastal village of Pagak Purworejo, Indonesia. This is a favourite nesting area of these birds.
"The nest architecture is complicated. Each nest is constructed from grass leaves, plaited in a very complex way.
"The nest is as big as a soccer ball, oval, stretched with a hallway and an entrance with a 10 cm diameter opening (left bottom). This entrance is on the underside of the nest with less dense plaited grass. The upperside of the nest is spherical and the grass plaited is thick and dense.
"Other nests seem to have different shapes – rounded with two openings beneath. Nest construction here seems to be incomplete, probably the male Baya Weaver is having a rest or cannot find enough nest materials? Or probably the male does not want to continue building his pretty house for the female, because she is not pleased with the house he built and has to be abandoned by the architect.
"It is not only humans that have special courtship behaviour. Baya birds, in order to attract a female, needs to pay a "bride price" or a guarantee of a home to raise the young. The male has to build a "castle" for the female before the copulation is allowed.
"Not just weavers but many other birds that live in the tropics such as Indonesia, have to build a nest before copulation.
"The many male birds can be seen competing with one another to collect materials and construct the nest. They are all busy arranging the grass leaves piece by piece, plaiting them carefully to slowly construct the nest before presenting to the female for approval.
"The bird that builds the most "beautiful and comfortable" nest will win a female for the current breeding season."
Text by Oka Dwi P., images by Swiss Winasis.
This post was received courtesy of Sunaring Kurniandaru, Kutilang Indonesia Foundation, Yogyakarta, Indonesia.