At times it is easy to be mistaken in the field. Locally Intermediate Egrets (Ardea intermedia intermedia) are not as common as Great Egrets (Casmerodius albus modestus). When I saw these 4 birds I thought they were Great Egrets but a closer look showed them to be Intermediate Egrets.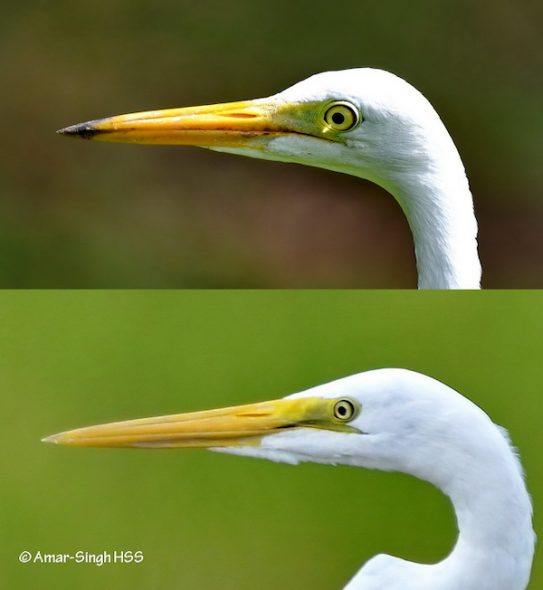 Intermediate Egret above, Great Egret below.
Posting a composite comparison of the birds I saw on this day with Great Egrets. Good signs are the dagger-mark that does not go behind the eye and the tip of the bill is black in Intermediate Egrets. The neck curvature in Great Egrets and shorter bills in Intermediate Egrets are other good pointers.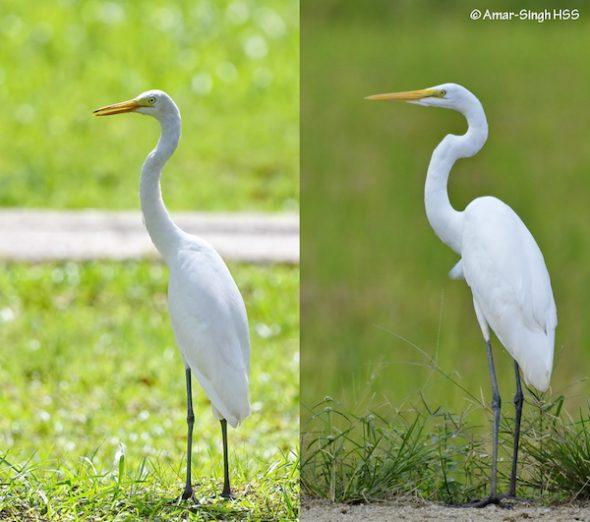 Intermediate Egret left, Great Egret right.
Amar-Singh HSS (Dato' Dr)
Ipoh, Perak, Malaysia
Location: Perak, Malaysia
Habitat: Secondary growth adjacent to primary forest
Date: 14th December 2020
Equipment: Nikon D500 SLR with Nikon AF-S Nikkor 500mm f/5.6E PF ED VR, handheld with Rode VideoMic Pro Plus Shotgun Microphone