"I came across two different female Raffles's Malkoha (Phaenicophaeus chlorophaeus) about 2 km apart; both foraging for prey in fairly thick jungle. This malkoha is best described as a cross between a squirrel and a Fantail Flycatcher; fast moving, scampering, often fanning the tail while acrobatically foraging.
"Images above and below show the common foraging technique of using the beak to open dead vegetation or examine under leaves for prey (image below shows it hanging by one foot).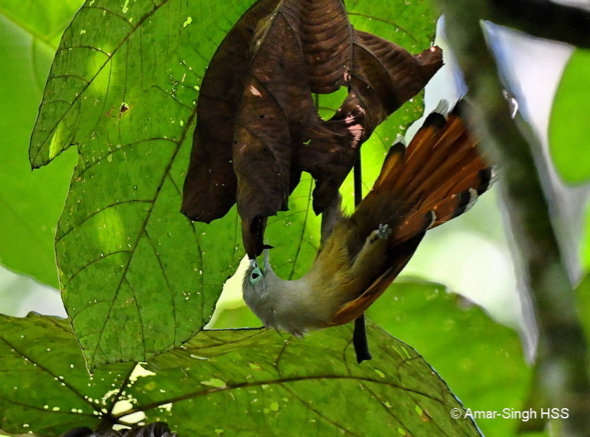 "In my experience prey has often been large winged insects or caterpillars. In literature it is documented as predominantly insects including spiders, beetles, phasmids, caterpillars, butterflies, cicadas, crickets, etc.
"Today I saw one bird took a small lizard (above) high up in tree (7-8 meters up) – no time to kill the lizard before swallowing head first. Not able to find such prey documented in literature (including Cuckoos of the World, by Johannes Erritzøe, Clive F. Mann, Frederik P. Brammer and Richard A. Fuller. Helm, 2012).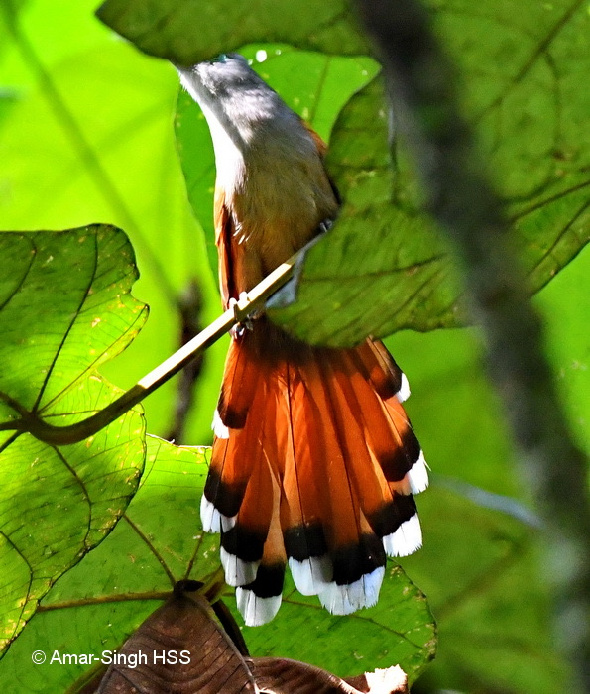 "Image above shows the rectrices of the female that are dark rufous (here brightened by back lighting) with a with subterminal black bands and white tips (Wells 1999)."
Dato' Dr Amar-Singh HSS
Ipoh, Perak, Malaysia
15th October 2019
Location: Kledang-Sayong Forest Reserve, Ipoh, Perak, Malaysia
Habitat: Trail along primary jungle