"The White-tailed Robin (Myiomela leucura leucura) is one of my favourites and I almost always get to watch it during a visit to the highlands; hence I thought I was fairly well aware of it behaviour. This observation made me rethink their social behaviour. I had observed a number of White-tailed Robins when I came across this self-feeding immature male. Note the shinning blue on the anterior forehead, the darker blue in tail and blue developing on the wings and breast. These images/observation helps suggest what plumage changes occur first in juvenile male transition to adults. It is interesting that the shining blue of the forehead is an early feature.
"I first saw the immature male feeding on an earthworm. It swiped and hit the earthworm and then broke it up into pieces before consuming it (images available but not posted). It then found another earthworm and processed it in the same was. But instead of feeding on it, the bird carried it away whole as though to feed some chicks (above).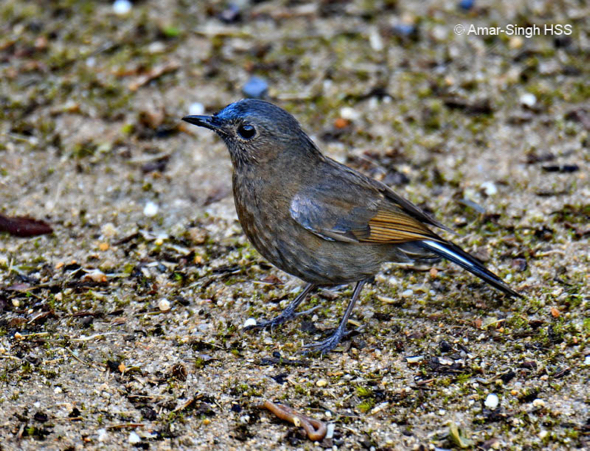 "As it made its way it spotted a large cricket and dropped the dead earthworm (above) to deal with the cricket (below).
"It then carried away the cricket (below) into the bushes, again as though to feed some young.
"It soon retuned to get the earthworm and also took that away. There was an adult male nearby who was also looking for prey. Both males were making contact calls intermittently and were not in conflict.
"My concerns/views: It is unlikely that an immature bird is nurturing a brood.
Could this be a young from an earlier breeding that is now functioning as nest helper?"
Dato' Dr Amar-Singh HSS
Ipoh, Perak, Malaysia
18th May 2018
Location: 1,600-1,700m ASL, Cameron Highlands, Pahang, Malaysia
Habitat: Trail through primary jungle