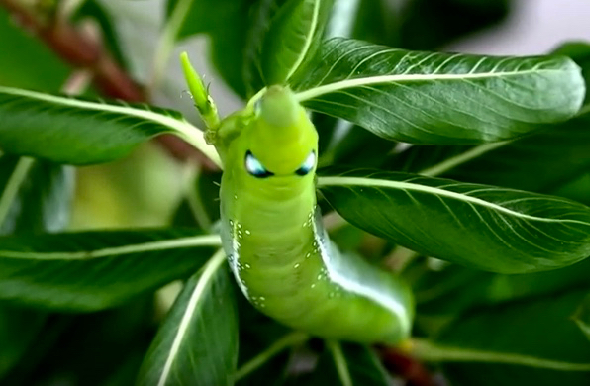 In mid-December 2015 Teo Lee Wei and K presented me with a fat Oleander Hawkmoth (Daphnis nerii) caterpillar that was chomping on their Periwinkle (Catharanthus roseus) plants in their garden (above). Under my care it continued feeding on the leaves as well as flowers (below).
The yellow-green caterpillar was at its last stage instar and soon turned dark grey (below).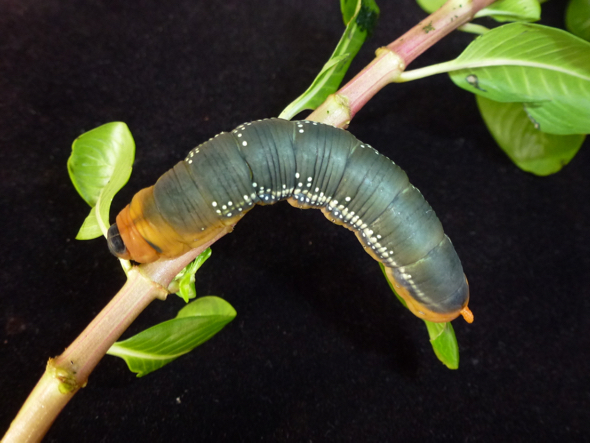 It stopped feeding and moved to the soil to pupate. Initially it tunneled into the soil but moved to the surface to form its cocoon of discarded leaves (below).
The pupa was initially whitish but turned dark rapidly (below).
Eclosure occurred 22 days later in the early hours of the morning. By the time it came to my attention, it was ready to fly off – see video below of the hawkmoth fluttering.
Eclosed Oleander Hawkmoth fluttering…

It flew off but remained nearby. It was placed in a cage (below: dorsal and ventral view).
YC Wee, Teo Lee Wei & K
Singapore
January 2016