"It will do no justice to Malayan Night-heron (Gorsachius melanolophus) if I don't put a magnifying glass over its feathering gear and write about this melanolophus species.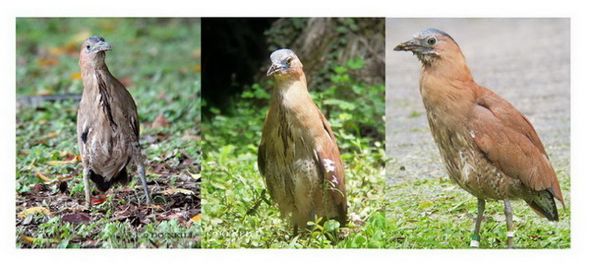 "They were encountered on numerous occasions in their living and foraging habitats. Shown here are three different birds photographed in three different locations (above).
"Their nearest two other cousins are Gorsachius magnificus (White- Eared) and Gorsachius goisagi (Japanese).
"Melanolophus species is a scarce, winter visitor in Peninsular Malaysia. I had only one juvenile encounter a decade ago in Nipah palm grove habitat – now destroyed by development.
"Living in safe confines of the Botanical Gardens in Taipei, several healthy birds came into view. One in particular, decided to put on a one-man/woman show to a single viewer.
"Let's take a closer look at this quiet, stalking bird that moved gracefully slow on ground. Admire its artistic plumage of mainly rufous to neutral colours, in its various descriptive melanin formations, that rightly earn its name 'melanolophus'.
"Strong, chunky looking grey, keratinised bill often soil smeared. While authors' texts suggest bird to be mostly night feeders, my observations were had of foraging birds photographed daytime (above).
"Melanolophus had ochre eyes. A bright, yellow ring eclipsed by black pupil, with matching outer eye lining that met thick folds of light-blue eyelids.
"They matched a bare-skinned face with same colour extended to base of lower bill.
"Melanolophus, with rufous highlights on sides of forehead, wore a grey crown with long crest like a Manchu's queue (above).
"Rufous, plumed feathers gracefully circumvented rear ear to ear with light, grey ascent feathering cascaded from neck sides to lower breast level (above).
"Creamish-white chin extended to throat with base emitted a classical, dark brown streaking feature over a buff centred chest. Like a lightning rod, it was accentuated with likes of blackish, Chinese brush strokes (above).
"In addition to light sprinkling of blackish melanin spots over throat, more of dark-browns were observed over buff breast. Similar spots intensified dramatically in size and extensively over a white and light brown belly. Coupled with blackish broken barrings, melanin spots tailed off at whitish vent to meet similar blackish spots at under tail coverts.
"Undeterred by my presence, Melanolophus gave a performance treat with a bare all standing pose. Wanabe Pegasus lifted both wings above its head, held aloft with this 'wanna see more…?' look as the vain model strutted to display its best looks for DGscope (above).
"A rare opportunity to appreciate a creamish white under winged of bird with black blotched, artistic patterns and heavy zebra looking stripes under armpits were had. The underside and flanks were equally serrated blackish.
"A total of three minutes were observed of Melanolophus spreading its held wings and basking under near mid-day sun (above).
"While overall external of bird appeared to be rufous with blackish vermiculations, more was to meet the eye.
"Puffing up its chest plumes to appear bigger, Melanolophus kept a stoic position and provided a detailed display of upper winged feathers.
"Prominent ten primary feathers (P1-10) of dark grey with white tips fanned out showing four primaries (P1-4) had sub-terminal cinnamon coloured bands. Two tiered primary coverts above of mainly cinnamon had matching white tips; with two-three feathers each row flashed similar grey on its outer primary coverts. Lesser coverts of vermiculated dark brown and blackish, lined the wing edge.
"Showtime ended when a noisy group of visitors headed towards our direction. Melanolophus retracted its wings, retreated for bush undercover.
"Thank-you…Melanolophus.
"Malayan Night-Herons do have their favourite perches. I found a bird about 13metres up a canopy tree shade, preening one footed on a soiled branch with old bird's droppings. The feet of this mature bird was greenish yellow.
"I am not able to discern sex of these birds but I hope to eventually give an answer in my future revisits. Apparently, facial bare skin of breeding birds turns reddish and if so, between the months of May-August would be a good time to observe them.
"Undergraduates of the Arts would find melanolophus species an excellent subject to study, understand and appreciate the creativity of 3-dimentional subjects using depth, tones and shades of neutral colours and the myriad of plumage designs, an artist be truly inspired."
Avian Writer Daisy O'Neill
Penang, Malaysia
19th October 2015
Copyright article and all copy images – Courtesy of Daisy O'Neill Bird Conservation Fund