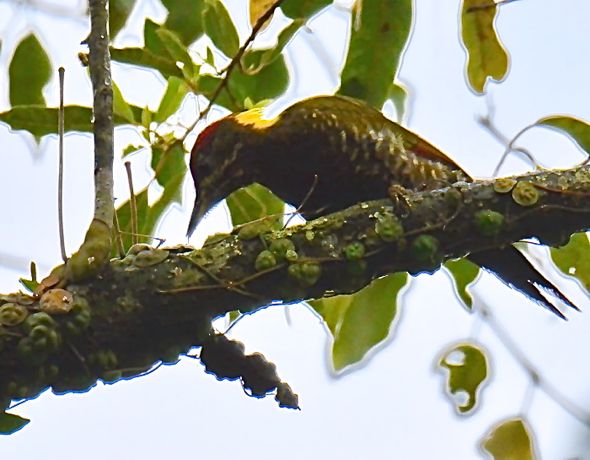 "My wife and I saw this lovely adult male Lesser Yellownape (Picus chlorolophus) for an extended period (above).
"One curious behaviour was pecking at and licking these 'fleshy growths' on the trunk of a tree (above, below). It spent quite some time with them. I was considering some form of fruit feeding as I had just seen it feed on fruit (more on this later).
"But after a discussion with Dr YC Wee of BESG (a botanist) who identified the plant as 'Dischidia astephana' it was clear that the bird was getting at the Crematogaster ants that are typically associated with this plant."
Note:
"Dischidia astephana is found in Malaysia, usually at higher elevations on Leptospermum trees. It is one of the 'ant-plants', where a mutualism relationship is assumed for the plant and the ant, see LINK and LINK.
"A number of species develop imbricate leaves (overlapping each other) which hold tightly to the growing surface. The underside of the leaf has a space which is filled with roots that the ants take advantage of – see HERE.
Dato' Dr Amar-Singh HSS
Ipoh, Perak, Malaysia
1st October 2014
Location: 1,600m ASL, Cameron Highlands, Pahang, Malaysia
Habitat: Trail through mixed secondary and primary forest