"My earlier observation of a female Red Junglefowl (Gallus gallus) in Sin Ming Ave attracted attention from a sharp-eyed youtube viewer who commented that the female had an extra toe than the normal ones LINK.
"While the video didn't have sufficient details to confirm whether it was a spur or an extra toe, I have recently gathered evidence that at least two of the junglefowl in this area indeed had an extra toe on each of their feet.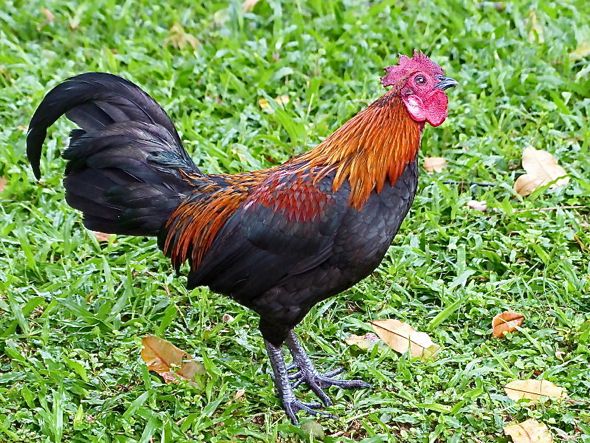 "The images (above and below) show a young male that has joined the community in my condo recently LINK. The close-up image (top) reveals his extra toes clearly.
"According to the University of Illinois Extension: No bird has more than four toes except chickens of the Dorking, Faverolle, Houden, Sultan, and Non-bearded Silkie Bantams, all of which have five toes. In these breeds the extra toe arises above the base of the hallux and projects upward, never touching the ground. In the Silkie, the extra toes often lie nearly in the same plane as the hallux. Some birds have only three toes, while the ostrich has two toes SOURCE).
"Thus it appears that there is a likelihood of the bird being a hybrid, perhaps with the Silkies as many birds here have dark or black feathers.
"The slow motion video above, edited from video clips recorded on 22nd September and 9th Sepember 2013, shows the above male and a different male found in Sin Ming Ave. The dubbed soundtrack contains the calls of Sport Dove, Zebra Dove, Javan Myna, Sunbird, Yellow-vented Bulbul, Asian Glossy Starling and Black-naped Oriole – birds that are found in my condo.
"Incidentally, I witnessed the new arrival, let's call him Lao Wu mating with the black hen Putri Hitam LINK this evening. She left her 2nd brood at 7 weeks and is now ready for another brood. I wonder whether she will produce chicks with 5 toes. Let's wait and see.
Sun Chong Hong
Singapore
15th October 2013