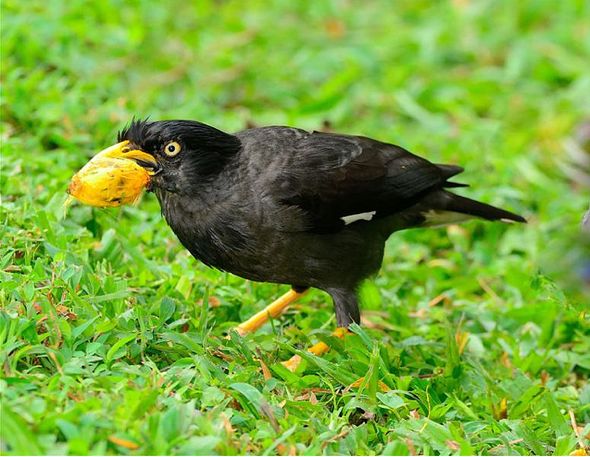 Johnny Wee seeing a Javan Myna (Acridotheres javanicus) picking up a fruit of the Oil Palm (Elaeis Guineensis) from the ground may appear a common sight to birdwatchers, if they take any notice of the bird at all. But to a photographer, this is something to document. And yes, it is a new record for BESG as it has still not been recorded in our list of Plant-Bird Relationship LINK.
Javan Myna is an omnivorous bird that eats almost anything, plants as well as animals. In Wells (2007), there is a record of it taking palm fruits but no mention of oil palm. Similarly, there is no mention of oil palm fruit in Craig & Feare (2009).
Johnny Wee
Singapore
May 2013
References:
1. Craig, A. J. F. K. & C. J. Feare, 2009. Family Sturnidae (Starlings). In: del Hoyo, J., A. Elliott & D. A. Christie (eds.). Handbook of the birds of the world. Vol. 14. Bush-shrikes to Old World Sparrows. Lynx Editions, Barcelona. Pp. 654-758.
2. Wells, D.R., 2007. The birds of the Thai-Malay Peninsular. Vol. II, Passerines. Christopher Helm, London. 800 pp.