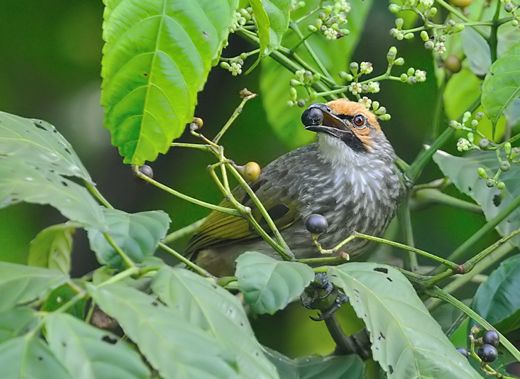 In November 2009, Chan Wei Luen a.k.a. luenny photographed a Straw-headed Bulbul (Pycnonotus aurigaster) eating the fruits of a Red Tree-vine (Leea indica). This is a small tree of up to 10 metres high. The berries are purple, turning black.
The plant foods of the Straw-headed Bulbul include figs, mistletoes (Loranthaceae), Indian cherry (Muntingia calabura) and MacArthur Palm (Ptychosperma macarthurii). Fruits of Leea indica would be a new food record.
This post is a cooperative effort between NaturePixels.org and BESG to bring the study of bird behaviour through photography to a wider audience.
References:
1. Fishpool, L. D. C. & J. A. Tobias, 2005. Family Pycnonotidae (bulbuls). In: del Hoyo, J., A. Elliott & D. A. Christie (eds.), Handbook of the birds of the world. Vol. 10. Cucuoo-shrikes to Thrushes. Lynx Editions, Barcelona. Pp. 124-251.
2. Wells, D.R., 2007. The birds of the Thai-Malay Peninsular. Vol. II, Passerines. Christopher Helm, London. 800 pp.