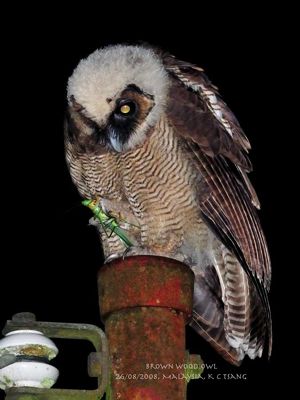 "Just came back from a short run up Peninsula Malaysia, came across this juvenile Brown Wood Owl (Strix leptogrammica), feasting on a grasshopper. Now one would have thought that owls would eat only eat… rats, birds, and other vertebrates. So this eating of insects was a surprise for me.
"Owls seemed to be doing very well up in Peninsula Malaysia. They can be found commonly hanging around rice fields from Perak down to Melacca, all looking out for rats and others. I was also informed that some rice farmers provide the owls with nesting boxes. So this is a good sign for these night birds."
KC Tsang
29th August 2008.
KC reported that the owl snatched the grasshopper from the ground and flew back to its perch where it popped it into its mouth.
Marks, Cannings & Mikkola (1999) report the Brown Wood Owl taking small mammals, small birds, reptiles and large insects Also, fish and fruit bats. However, there is no specific mention of grasshoppers.
Reference:
Marks, J. S., Cannings, R. J. & Mikkola, H. (1999). ['Family Strigidae (Typical Owls)'.] Pp. 76-242 in del Hoyo, J., Elliott, A. & Sargatal, J. eds. Handbook of the birds of the world. Vol. 5. Barn-owls to hummingbirds. Barcelona: Lynx Editions.