March 2007 was a busy period for the male Baya Weavers (Ploceus philippinus). This was the beginning of the breeding season and they were all busy building their nests. Nests are normally in colonies, attached to the twigs of trees that grow in overgrown undergrowth.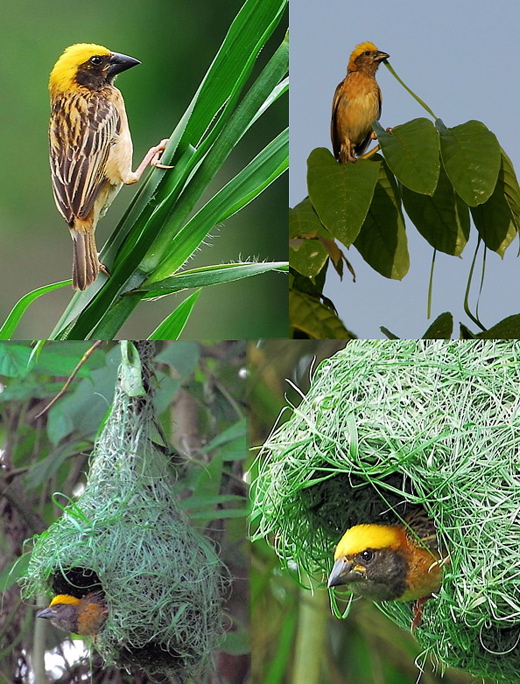 The birds had been building for the last week or so and the nests were at the helmet stage (above: bottom images). They flew in and out, bringing strands of grass and tirelessly weaved them into the incomplete nests (above: top images). Some nests were brown, probably having been completed earlier. Others were green, freshly completed. Yet others had green strands on the surface, indicating that they were being repaired.
The birds got excited at times, chattering noisily. Once in a while one would fly to it's neighbour and pick a fight. But such fights never lasted long as the birds soon went back to work.
Whenever a female appeared, all the males around became excited. They flew from the nest they were working with to be near the female, chattering and fluttering their wings rapidly.
Once the female flew off, the males returned to work. The images below show the males working tirelessly on the helmet-stage nests while that on the extreme right shows the female inspecting the completed nest.
Then tragedy struck. Within days most of the nests were harvested by poachers. These would probably be sold as garden ornaments. However, there were a few nests that were spared. Nests that the poachers did not dare take. These nests were built near to the hornets' nest and this probably saved the nesting birds.
Well, the hornets did serve a purpose after all (below).
"Gillie" commented on 16th September 2007 after reading the post on the hornets' nest: "On a bush walk today we were moving a fallen branch that shook the hornet's nest (unbeknownst to us) and then I heard this buzzing like a humming bird. Next thing a hornet hit my head and stung me on the top of the head in one swoop. It flew off then came back for another swoop at my hiking partner. He didnt get stung – luckily for him.
"Its now 9hrs since the sting and it still hurts like hell. These guys are aggressive and their sting ain't fun. Its not super painful, but it just doesn't stop. It hurts now just as much as it did when I got hit.
"OUCH!
"Steer clear of these nests at all costs!"
Poachers are aware of what hornets can do, but how about birders?
Johnny Wee, Melinda Chan & "Gillie"
Singapore
January 2008
(Images by Chan Yoke Meng, top panel, top right, bottom panel and hornets' nest) and the rest by Johnny Wee)