Although they are called kingfishers, not all kingfishers eat fish. Of the 90 or so species, well over half feed at least sometimes on other prey. There are several species that do not feed on fish at all. And not all kingfishers live by water as some actually avoid water, preferring to live in wooded areas.
During March 2007 Connie Khoo was busy observing a pair of White-throated Kingfishers (Halcyon smyrnensis) bringing back food for the chicks (left). One thing she noticed was that the parents never brought back any fish to feed the chicks. There were plenty of lizards, of different species, and frogs, insects and even a big spider. But definitely no fish.
There were two growing chicks in the nest and they needed to be fed regularly. Apparently lizards were the favourite food (below).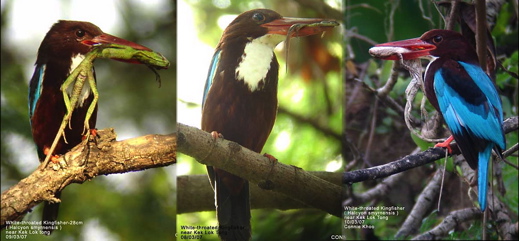 But what surprised Connie most was when one of the parent bird brought back a rat (below left). The rat was struggling vigorously and the kingfisher was bashing it continuously against the branch it was perching on until it became lifeless. About 45 minutes later the other parent came flying with another rat in its bill. But the rat was not for the chicks as the bird swallowed it – with difficulty, head first of course (below right). It took all of three minutes to complete the job, with short rests in between.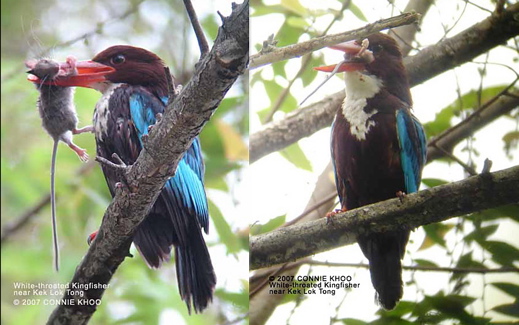 Connie was worried, "His whole mouth was wide open… and for a while I was thinking will he choke to death? Finally when he finished swallowing the whole rat, he took a deep breath and rested for about 10 minutes before flying off to join his mate who was holding another lizard ready to feed the young chicks again."
Input and images by Connie Knoo. The information and images was made available through the good office of KC Tsang.