Whenever I am in my garden and hear this somewhat gurgling call, I know that the Yellow-vented Bulbuls (Pycnonotus goiavier) are nesting in a tree nearby (video above).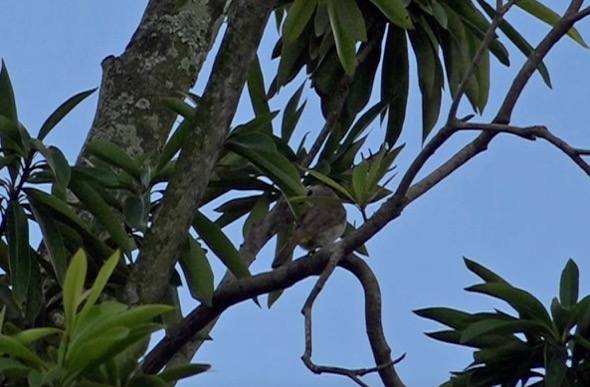 The bulbul would initially be somewhere among the branches of the wayside tree, well hidden among the leaves. Its presence would eventually be revealed when it thinks it had made eye contact with me and moved to another spot (above).
Should I continue to remain in the garden, it would show its presence by moving to the verandah of the house nearby and continue with its call. Only when I move away from the garden would it fly off and discontinue with the call.
To me it is a distraction call, to lure me away from the nest. As with most nesting birds, the bulbul would not fly directly to the nest to feed the chicks. Only when the path is clear would it do so.
This call can also be a warning call to the chicks in the nest to lie low. Or can it also be a distress call?
YC Wee
Singapore
19th July 2017