"Eurasian Bullfinchs or Grey-bellied Bullfinch Pyrrhula pyrrhula griseiventris are beautiful birds but it seems that more is required to work out differences between subspecies. A number of authors (Brazil 2018 & HBW 2019) call the north Japan (Hokkaido, north Honshu) subspecies the Grey-bellied Bullfinch (Pyrrhula griseiventris). Most descriptions of the male P. p. griseiventris are of a black cap and lore contrasting with bright pink cheeks and throat and distinct grey underparts (Brazil 2018, Clement 1993, Moores 2012).
"This is in contrast to the pyrrhula, cassinii, and rosacea subspecies which have pink on the breast and underparts. P. p. griseiventris birds move during the winter; although predominately within Japan but also to Primorsky Krai (far eastern Russia) and South Korea. Hence intergrades are possible.
"We saw a number of birds and you can see, in some of the males, a clear pink wash to the breast; brighter in some (top, above). This is unlike the pure grey expected.
1. Peter Clement (writing in HBW 2019 with Christie) suggest that there are two 'variants' of the P. p. griseiventris (see drawings in HBW 2019). They say 'underparts soft grey ….. extent of pink suffusion below variable, some have sides of breast and belly tinged or washed pink or pinkish-orange ('roseacea')'.
2. The article by Moores 2012 is worth a read on colour variation.
3. Koji Tagi, posting in the OBI database on this bird says 'Probably, all individuals photographed here are of the subspecies griseiventris. However, most of males show a hint of pink on the breast and belly like rosacea".
4. Note that some bird images taken in Japan in the OBI database are labelled 'Pyrrhula pyrrhula rosacea'. Most authors I have read would suggest only the Pyrrhula pyrrhula griseiventris subspecies for Japan. I recognise the OBI editor's note that 'some authorities merge rosacea in griseiventris'.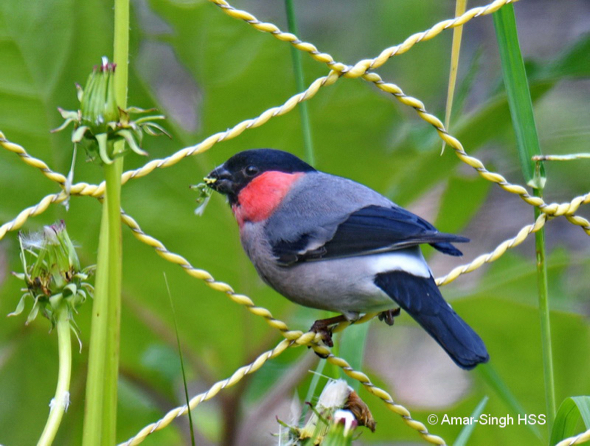 "Note the prominent white rump in the above image, another feature of this Bullfinch.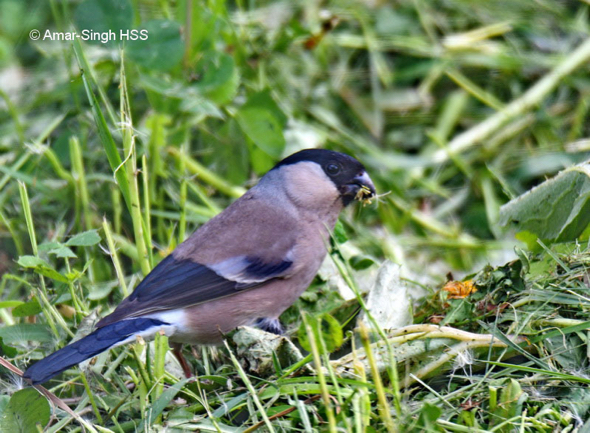 "Female birds are shown above and below."
Dato' Dr Amar-Singh HSS
Ipoh, Perak, Malaysia
8-11th June 2019
Location: East Hokkaidō, Japan
References:
1. Mark Brazil. Birds of Japan. Helm Field Guides 2018
2. Peter Clement, Alan Harris, John Davis. Finches and Sparrows: An identification Guide. Princeton University Press. 1993
3. Nial Moores. Bullfinches in the ROK: From Pink to Grey and Much Between! Birds of Korea. 2012 (available HERE.
4. Clement, P. & Christie, D.A. (2019). Eurasian Bullfinch (Pyrrhula pyrrhula). In: del Hoyo, J., Elliott, A., Sargatal, J., Christie, D.A. & de Juana, E. (eds.). Handbook of the Birds of the World Alive. Lynx Edicions, Barcelona LINK.