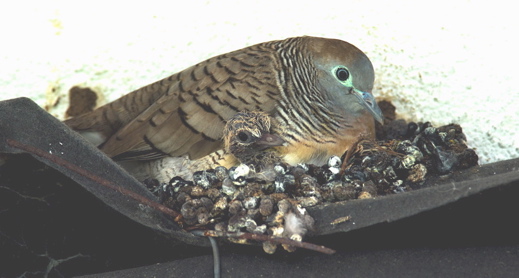 KC Tsang was at Neo Tiew Lane on 2nd September 2007 when he came across the nest of the Peaceful Dove (Geopelia striata) (above). There was an adult in the nest together with two chicks. But what he noticed was the filth of the nest periphery, so much so that he wrote, "…this nest made of shit, bird shit. And the best thing is that it is all orderly, and properly arranged." Tongue-in-cheek he continued, "Now the question is, how long did it take to collect all these faecal matter to build a nest, is all the faecal matter from the same two adults, is it not very unhealthy for the chicks, but looks like it is not so. Has anyone else notice this use of faecal matter as nesting material in other species of birds…?"
The Peaceful Dove constructs a very simple nest, actually a more or less flat platform of twigs. The adults take turn incubating and brooding, remaining in the nest all the time until time to change shift. Even when they are ready to discharge wastes, they do not leave the nest. They just point their posterior away from the nest and shoot.
In most cases the birds leave some mess around the nest edge. But not the massive wastes seen in the nest above. As KC puts it, "Propulsion unit not strong enough?" or is it because of "First generation equipment?"
Faecal wastes attract harmful organisms, from mites to bacteria. And eventually, it is the chicks that get infected.
So what do most birds do? Many take great care to remove wastes from nesting chicks via faecal sacs, as seen with Oriental White-eye (Zosterops palpebrosus), Scarlet-backed Flowerpeckers (Dicaeum cruentatum) and Olive-backed Sunbirds (Cinnyris jugularis).
But not the Peaceful Dove!
I suppose unhygienic birds will produce weak chicks. And weak chicks may not breed. The net result will be the end of this line of unhygienic birds.
KC Tsang
Singapore
September 2007