"I received a tip-off on February 8th, 2008 from Martin Kennewell, that he had encountered a flock of the mysterious 'White-faced' Plovers at Changi that morning. The next morning, Martin Daniel and I set off for the site (with the help of my wife, Sham, who drove us to the end of the road).
"The site was at the northern end of the large area of reclaimation at Changi. Here, on the coast, a sand-bar extends out in a semi-circle but does not re-connect with the coast. Both of us reached the site after a walk that produced a few birds, including an Eastern Marsh Harrier (Circus spilonotus) and several Himalayan Swiftlets (Aerodramus brevirostris) migrating north.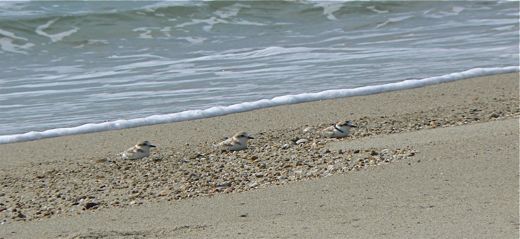 "Walking out on to the sand-bar, we noticed that the large flock of shorebirds, mentioned by Martin Kennewell from yesterday, was largely absent. Instead, toward the end of the bar were a few shorebirds. We identified 3 pairs and an immature female Malaysian Plovers (Charadrius peronii) (above: 2 females and a male), 8 of the 'White-faced' Plovers, 2 Lesser Sand Plovers (Charadrius mongolus), a Terek Sandpiper (Xenus cinereus) and Common Sandpiper (Actitis hypoleucos). A flock of about 50 Pacific Golden Plovers (Pluvialis fluva) also flew over.
"I took a few photos but the White-faced Plovers were somewhat cautious, moving away when we got too close (above). Hence, my Panasonic Lumix was only good enough to make record shots.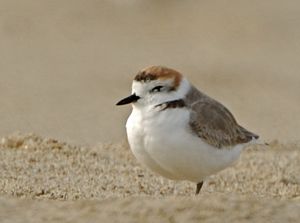 "Lin Yangchen also visited the site a few days later, with a group of birders that included Martin Kennewell and David Blakewell. He managed a couple of much better shots of the White-faced plover, as seen here (left).
"Is this really a new species? They certainly looked quite distinctive when we saw them. A good case is certainly being built up by a few overseas birders and we now await capture of a bird to take a blood sample for final confirmation. Best of luck everyone!"
Input and images by Subaraj Rajathurai, except close up of bird by Lin Yangchen.