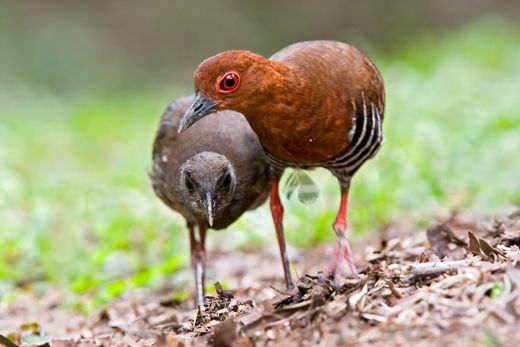 On 11th February 2008, Dr Eric Tan a.k.a. MountainMan, documented an adult Red-legged Crake (Rallina fasciata) accompanied by a recently fledged chick foraging together in the Singapore Botanical Gardens (above: adult right, fledgling left).
There is more than one family of Red-legged Crake in the Gardens. One or more birds are regularly sighted in the morning or early evening, foraging or even stealing a bath in a roadside puddle after rain.
The above images show the adult on the left and the fledgling on the right. The adult is an impressive looking bird with bright chestnut-orange head, neck, throat and upper breast. The lower breast and belly have prominent white barring. Coupled with these features are the bright orange iris and eye ring and red legs. However, the sexes are not easily distinguishable, although the female is somewhat more cinnamon on the head and neck. Also, her belly and flanks have narrower black bars.
The juvenile, shown above stretching a wing and a leg, is not often illustrated in guide books, possibly because such images are uncommon. Well, we have here distinct images of a recently fledged chick showing brownish plumage that is chestnut in the adult. Also, the less distinct barring on the lower breast, belly and coverts. The iris and eye ring are less bright and the legs are just beginning to develop the redness.
All images by Dr Eric Tan.
This post is a cooperative effort between www.naturepixels.org and BESG to bring the study of bird behaviour through photography to a wider audience.