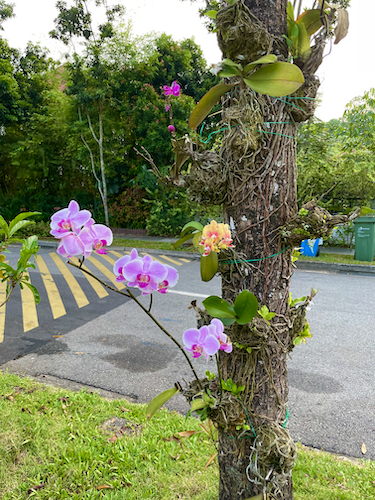 A wayside tree along Hua Guan Avenue.
In my evening walk along Hua Guan Avenue, I was pleasantly surprised to encounter a number of wayside trees adorned with orchid plants in full bloom. The dainty flowers of different colours, hanging gracefully from long stalks, make the wayside alive. These orchids were obviously grown by residents, using their spare plants.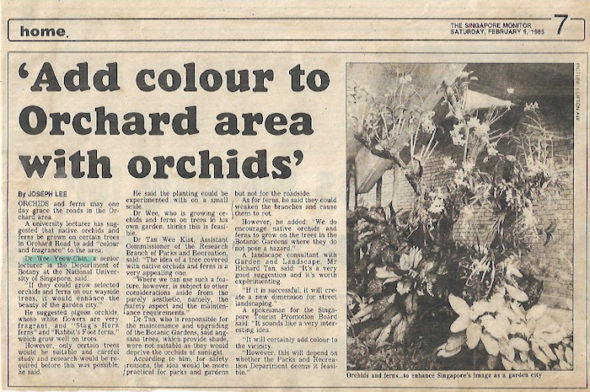 The Singapore Monitor – 9th February 1985.
This experience brought back memories from years gone by – February 1985 to be precise. I had then suggested that attaching Pigeon Orchids and selected ferns to trees could add colours to the Orchard areas. This would also make the areas more attractive to tourists. A landscape consultant with Garden and Landscape was fascinated with the idea, adding "It's a very good suggestion and it's worth experimenting. If it is successful, it will create a new dimension for street landscaping." The Singapore Tourism Board also supported the idea, adding: "It sounds like a very interesting idea. It will certainly add colour to the vicinity." Sadly, the then Parks and Recreation Department was not supportive because of safety reasons, adding that it was more practical for parks and gardens but not for the roadside.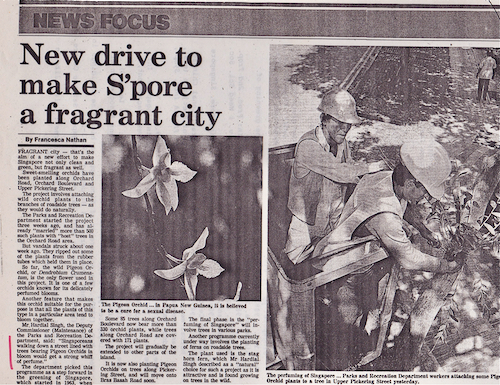 The Straits Times of 7th February, 1990.
Five years later, I was delighted to read in The Straits Times that the newly formed National Parks Board was sending workers to attach some 500 Pigeon Orchids to trees along Orchard Road and Orchard Boulevard. These orchids bear white flowers that bloom together in a particular area. At the same time the flowers emit a sweet perfume.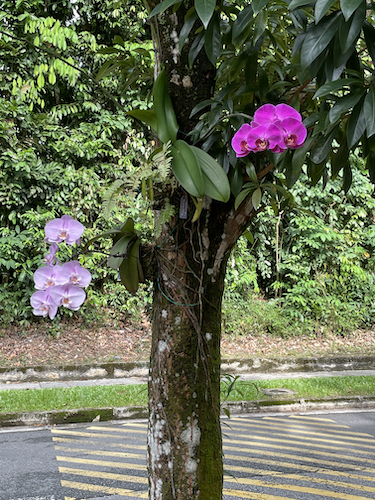 A tree along Jalan Kampong Chantek adorned with colourful orchid plants.
Thanks to neighbour Mr. Yap Wai Ming who alerted me to the presence of trees along Jalan Kampong Chantek with blooming orchids attached and to Ms. Teo Soh Lung who provided transport, I was able to visit the area and photograph these trees. Many of the attached orchids have tags attached thanking donors. Can this imply that it was a residents' initiative?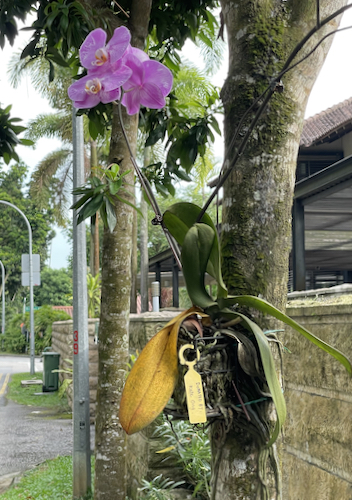 Another tree with an orchid plant attached – note the tag below thanking the donor.
Thanks to the National Parks Board, we now have a fragrant Orchard area whenever the orchids bloom. Now how about brightening the Orchard area? Can we emulate the residents of Jalan Kampong Chantek and Hua Guan Avenue? They have successfully proven that orchid plants attached to the trunks of wayside trees do not cause damage to the trees.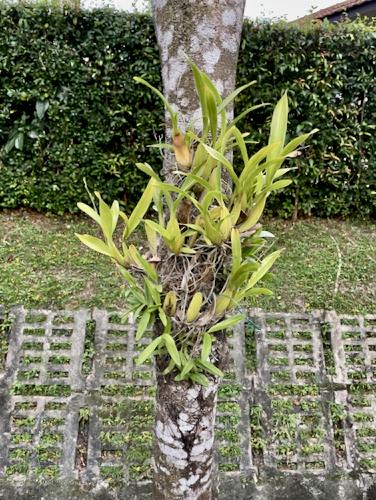 A tree along Binjai Park with non-flowering orchid plants attached to the trunk.
In another walk along Binjai Park, I also noticed a number of large trees with orchids tied to their trunks. However they were not flowering. These trees were not fronting any houses. Is possible that the orchid plants were not placed there by residents. Can this be an experimental area? If so, are the authorities conducting an experiment? 
Currently we are engaging the Binjai Neighbourhood Committee to get residents involved in beautifying the roads in the area with orchids. If successful, we hope to turn the roads in the Binjai Neighbourhood into the most colourful areas in Singapore when these plants come to bloom.
YC Wee
19th May 2023.