On 27th November 2022 Shamla Subaraj received the Public Service Medal, awarded by President Halimah Yacob posthumously to the late Subaraj Rajathurai.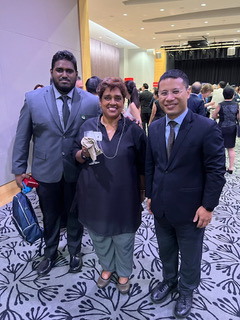 The late Subaraj Rajathurai, a wildlife consultant and well-known conservationist, passed away in October 2019 at age 56 years. He, together with his wife Shamla, operated Strix Wildlife Consultancy that conducted nature tours and wildlife surveys. According to Singapore's Minister of National Development Desmond Lee, Subaraj was a true giant and pioneer in our local conservation scene. We fully agree with the Minister and so do many of us who knew him.
Subaraj Rajathurai.
Subaraj was a self-taught naturalist and has been around nature for at least 35 years. I got to know him in the 1980s when we were both members of the then Malayan Nature Society (Singapore Branch). I was then the Hon. Secretary and he an active member of the Bird Group. In fact he was the Recorder of the group, maintaining records of all the birds encountered by the group. So good was he that the leaders of the group conspired to get rid of him. He was eventually removed from his post as Recorder for failing to attend a meeting – when he was on his honeymoon.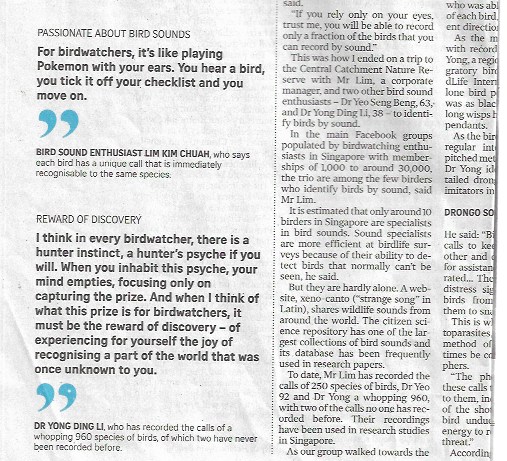 Part of an account of "Playing Pokemon with your ears" in The Straits Times of 6th March, 2023.
A keen birder, he was one of the very few able to identify most of the resident and migratory birds found in Singapore. So good was he that he could even identify many of the birds by their calls. This naturally gave his team a huge advantage during most of the Bird Group's annual bird races and indeed his team often came out top scorers. Eventually the organisers changed the rules and participants had to actually see the birds before they could be included in the list encountered during the 24-hours race. I am happy that the leaders of the Bird Group finally realise the importance of bird calls, although it took them more than a decade to do so.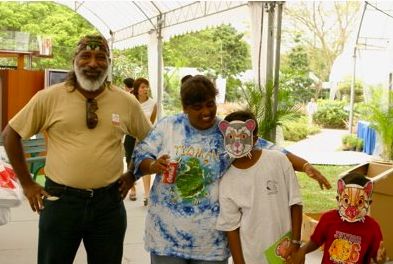 Subaraj and family at the 2012 "personal" bird race.
So good was Subaraj in these annual races that in 2012 when he was late in registering for the bird race, the organiser took the opportunity to ban his family group from participating. In all past races late registrations were always accepted, after all the more the merrier. Not to be outdone Subaraj had his own personal bird race that scored 141 species spotted as compared to 120 species by the winner of the official race. Although the score was unofficial, in his heart he knew that he was far better than them all.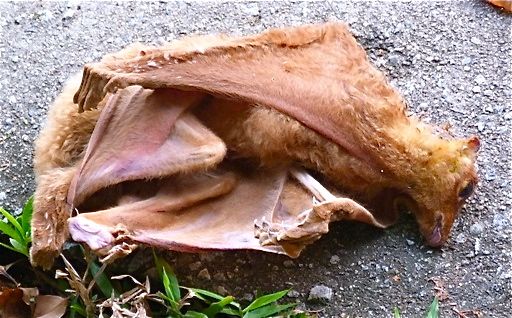 Dead Flying Lemur.
While most bird watchers are only interested in birds, Subaraj was different. He would study other faunal groups like dragonflies; butterflies; spiders; skinks; lizards; toads; snakes; rats; flying foxes; fruit bat; flying lemurs, etc. when out in the field. On a survey at MacRitchie Reservoir, he came across a dead Malayan Colugo or Flying Lemur, Cynocephalus variegates, that really upset him very much.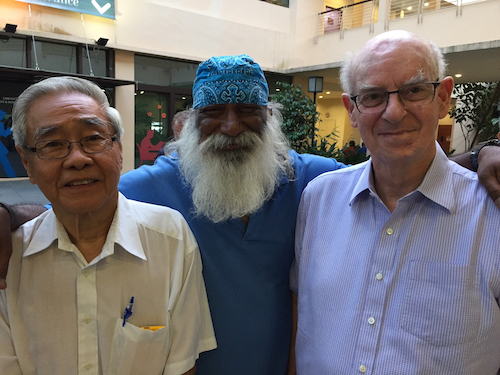 Wee Yeow Chin, the late Subaraj Rajathurai and Richard Hale, three founders of BESG.
Subaraj was one of three founders of the Bird Ecology Study Group, a special interest group that was set up to encourage birdwatchers to keep a lookout for bird behaviour. This subgroup was formed as the older Bird Group was fast becoming a recreational group. Subaraj's keen observations contributed immensely to BESG as many of his observations on bird behaviour were not reported earlier, if at all they were known. These were eventually compiled and published in the online scientific journal managed by the Lee Kong Chian Nature History Museum – see below.

An example of Subaraj's contribution to the scientific aspect of bird watching.
Subaraj's scientific contribution to the scientific aspect of birdwatching can be seen from the publications he was involved as co-author below:
Lok, A.F.S.L. & Subaraj, R. (2008). Porphyrio porphyrio viridis Begbie, 1834 (Purple swamphen), gem of Singapore's marshes. Nature in Singapore 1: 219-224.
Lok, A.F.S.L. & Subaraj, R. (2009). Lapwings (Charadriidae: Vanellinae) of Singapore. Nature in Singapore 2: 125-134.
Lok, A.F.S.L., Khor, N.K.T., Lim, K.C. & Subaraj, R. (2009). Pittas (Pittidae) of Singapore. Nature in Singapore 2: 155-165.
Lok, A.F.S.L., Tey, B.S. & Subaraj, R. (2009b). Barbets of Singapore Part 1: Megalaima lineata hodgsoni Bonaparte, the lineated barbet, Singapore's only exotic species. Nature in Singapore 2: 39-45.
Subaraj, R. & A.F.S.L. Lok, 2009. Status of the Lesser Adjutant (Leptoptilos javanicus) in Singapore. Nature in Singapore. 2: 107-113.
Tsang, K.C., Subaraj, R. & Wee, Y.C. (2009). The role of the camera in birdwatching in Singapore. Nature in Singapore 2: 183-191.
Wee, Y.C. & Subaraj, R. (2009). Citizen science and the gathering of ornithological data in Singapore. Nature in Singapore 2: 27-30.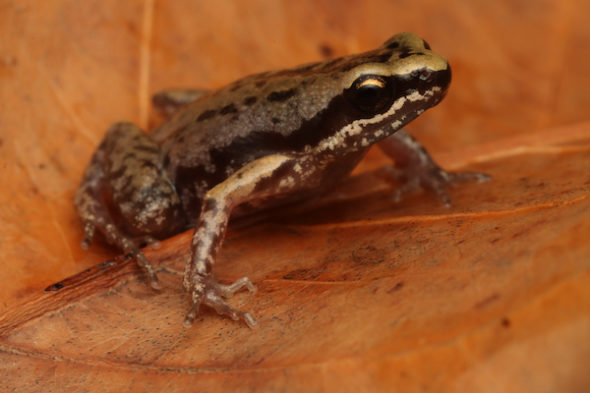 Subaraj's Paddy Frog (courtesy of Sankar Ananthanarayanan).
In August 2022 Subaraj discovered a newly species of frog no larger than a marble that is found only in Singapore. The newly discovered frog was name after him: Micryletta subaraji or Subaraj's Paddy Frog.
Whenever and wherever any nature areas were threatened for development, you can be sure to see Subaraj, even when he was not directly involved. When there was a proposal to build a golf course in the Lower Peirce Reservoir, he volunteered his services to organise field surveys collecting data on the flora and fauna that would be destroyed. When the coastal patch at Chek Jawa in Pulau Ubin was scheduled for reclamation despite the rich marine life there, Subaraj was making his opposition known even though the Nature Society (Singapore) instructed members not to be involved. When the Land Transport Authority proposed to run a train line beneath the Central Catchment Reserve, Subaraj was one of the few who made his outrage public. Strangely, the Conservation Committee was nowhere to be seen – can it be that birds in these areas were not threatened?
Nature lovers are proud that Subaraj's contribution to Singapore's nature has now been recognised by government.
YC Wee, 5th May 2023